Peshawar Zalmi Team is a PSL Twenty20 cricket team and it represents Peshawar. Its capital is Khyber Pakhtunkhwa the providence of Pakistan. The word Zalmi stands for youth- the part of the country where the state of exuberance among people is irrepressible. Here we discussed Peshawar Zalmi Squad with team performance.
PESHAWAR ZALMI SQUAD 2020
The concept of endothermy is long extinct and the blood running down is boiling hot. In the past, Peshawar is far from cricket but now this team is changed and now they make a career in the cricket field. It's home the ground is Arbaz Niaz Stadium and it was revealed in 2015.PSL Schedule 2020
WHO WILL WIN PSL 2020 ??
OWNER OF PESHAWAR ZULMI
The owner of Peshawar Zalmi is Javed Afridi which is the CEO of Haier Pakistan. Now we discuss team players of Peshawar Zulmi as given below
CAPTAIN OF PESHAWAR ZULMI
The captain of Peshawar Zulmi is Darren Sammy.
COACH OF PESHAWAR ZULMI
Mohammad Akram is the head coach whereas Younis Khan and Saqlain Mushtaq are the batting coach and spin bowling consultant respectively.
PESHAWAR ZALMI PLAYERS
In this section, we Will telling about the complete information with details of Peshawar zalmi players
BATSMAN OF PESHAWAR ZALMI SQUAD
In the batsman of Peshawar Zulmi seven players are used and their names
are given below:
1. Misbah-ul-Haq
2. Nabi Gul
3. Shoaib Maqsood
4. Umar Amin
5. Kamran Akmal
6. Jamal Anwar
7. Samiullah
BOWLERS OF PESHAWAR ZULMI
In the bowlers of Peshawar Zalmi Squad five players are used and their names
are given below:
1) Wahab Riaz
2) Hassan Ali
3) Umaid Asif
4) Sameen Gul
5) Ibtisam Sheikh
ALL ROUNDERS OF PESHAWAR ZULMI
Peshawar Zalmi players has all-rounders also which can place whenever time and demand available. Their names are given below:
1. Khalid Usman
OVERSEAS PLAYERS OF PESHAWAR ZULMI
In overseas players of Peshawar Zalmi, seven players are used. Their names are given below:
1) Dawid Malan
2) Wayne Madsen
3) Liam Dawson
4) Keirn Pollard
5) Darren Sammy
6) Chris Jordan
7) Andre Fletcher
PESHAWAR ZALMI SQUAD 2020 Updated
Here below table, that s will be confirmed those players which are playing PSL 2020 session now. Below table mentioned the full information about the peshawar zalmi team in details…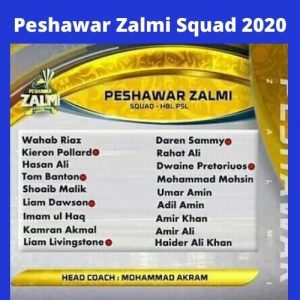 PROGRESS OF PESHAWAR ZALMI TEAM
Peshawar Zalmi tean having great performance in previous psl sessions.  So Peshawar Zulmi played 34 matches in 3 PSL editions in which they won 17 and lost 14. Their overall percentage is 57.57% and they got 3 rd position in PSL
RELATED: