Commentary Panel for HBL PSL 8 – Who will we see this time?
Who will we listen to this time for HBL PSL 8? PSL is a vibrant tournament. It is full of color and joy. But the live commentary makes it attractive for the viewers on TV. Commentators like Danny Morrison or Ramiz Raja make it more interesting each time. The fun these people have on-screen increases our interest in the game. At the same time, we learn a lot during their commentary. Unfortunately, we may not see some old guns in the commentary.
We will discuss this more on Cricketworlds.net because it is all about cricket!
Commentary Panel for HBL PSL 8 – Who will we see this time?
The possible commentary panel is revealed on social media. As per reports, an 11-person team of analysts and anchors has been formed. Because the matches are being played at two locations simultaneously, a big commentary team has been assembled. Oh, look at the coincidence! 11 commentators, just like 11 players in a team.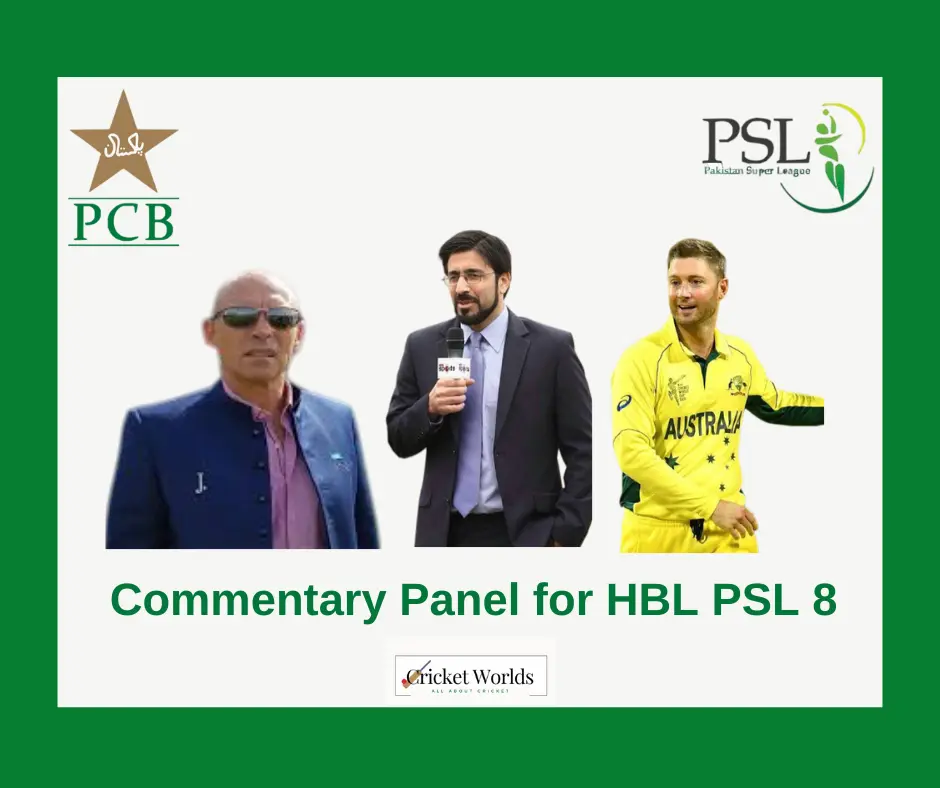 The following commentators will perform their duties for HBL PSL 8
Mark Butcher
Danny Morrison
Bazid Khan
Nick Knight
Sikandar Bakht
Sana Mir
Urooj Mumtaz
Dominic Cork
Alan Wilkins
Tariq Saeed
As far as the anchors are concerned, we all remember Zainab and Errin don't we? Their passion for the game makes us excited about the matches as well.
According to sources, the PCB will disclose the members of the PSL commentary team in the coming days. The PSL 8 will begin on February 13 with the inaugural match between the current champions Lahore Qalandars and the 2021 winners Multan Sultans, at the Multan Cricket Stadium following the inauguration ceremony.
But where is Rambo missing from all of this?
Will Ramiz Raja do commentary in HBL PSL?
Ramiz Raja's name is not mentioned in the first commentary lineup. Earlier this month, Raja disclosed in a video posted to his own Youtube page that the Najam Sethi-led committee demanded he apologizes for his recent remarks against the administration to be a part of the PSL commentary crew. He said on his youtube channel (Ramiz Speaks):
"They want me to apologize to them first and give an application for commentary; then they will review it. Do you think I will do that?"
It will be sad to hear Rambo in the commentary box. Rambo has been trolled a lot of his commentary on Twitter. But that has always been done for fun. We are sure that fans will be disappointed if this happens.
What about Micheal Clark?
Clarke has allegedly landed a gig with PCB for being a commentator for HBL PSL. After his video with his girlfriend went viral, BCCI fired him from the Border Gavaskar Trophy commentary team. While he was disappointed and ashamed of his viral video, he told the media about the PSL gig:
"I have just been asked to commentate in the PSL, the Pakistan Super League, and you should see the internationals they have got."
Will we see Micheal as a commentator? Let's wait a couple of days to find it out.
Conclusion
For now, we can only wait for a confirmed commentary panel. But it would be quite a disappointment if we wouldn't hear Rambo's voice in the commentary panel due to his beef with the PCB. The authorities should solve this matter as it may give the board a bad image.