Lahore Qalandars Squad 2024 PSL 9 [CONFIRMED]
In this article, we discuss the latest information and update you about the PSL 9 Lahore Qalandars Squad 2024. we also cover the complete squad with player profiles and performance. All Categories are updated here.
The PSL Schedule 2023 Time table is announced. The PSL Points Table is updated.
we updated PSL Winners List Year Wise.
LAHORE QALANDARS PLAYERS LIST 2024
Players
Category
Fakhar Zaman
Platinum
Shaheen Shah Afridi
Rashid Khan
David Wiese
Diamond
Hussain Talat
Haris Rauf
Abdullah Shafiq
Gold
Sikandar Raza
Liam Dawson
Kamran Ghulam
Silver
Mirza Tahir Baig
Harry Brook
Dilbar Hussain
Ahmad Daniyal
Zaman Khan
Emerging
Shawaiz Irfan
Jordan Cox
Supplementary
Jalat Khan
Lahore Qalandars Replacement Draft
Lahore Qalandars made some replacements as well. They also picked some players for the supplementary category. The following table shows these players.
Replacements
Player
Non-availability status
Replacement
Rashid Khan
Partial
Sam Billings
Jordan Cox
Partial
Kusal Mendis
Harry Brook
Full
Shane Dadswell
Supplementary Category
Player
Nationality
Role
Ahsan Bhatti
Pakistani
All-rounder
We Also updated Islamabad united 2024 as well as Karachi king Squad. Our team also updated Lahore Qalandars Players and Multan Sultans Squad. You can view updated information.
Lahore Qalandars Match Schedule PSL 9
| | | |
| --- | --- | --- |
| Date | Match | Venue |
| Monday, February 13, 2024 | MS v LQ | Multan |
| Sunday, February 19, 2024 | KK v LQ | Karachi |
| Tuesday, February 21, 2024 | QG v LQ | Karachi |
| Sunday, February 26, 2024 | LQ v PZ | Lahore |
| Monday, February 27, 2024 | LQ v IU | Lahore |
| Thursday, March 2, 2024 | LQ v QG | Lahore |
| Saturday, March 4, 2024 | LQ v MS | Lahore |
| Tuesday, March 7, 2024 | PZ v LQ | Rawalpindi |
| Thursday, March 9, 2024 | IU v LQ | Rawalpindi |
| Sunday, March 12, 2024 | LQ v KK | Lahore |
All teams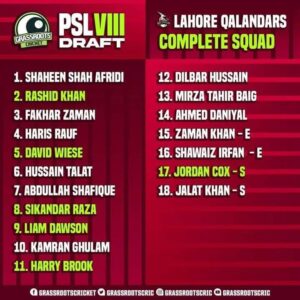 | | |
| --- | --- |
| Captain | Shaheen Shah Afridi |
| Team | Lahore Qalandars |
| Owner | Rana Fawad |
| Winning Prediction | 70% |
| Brand Ambassador | Haris Rauf |
PSL 9 LAHORE QALANDARS
Many Cricket fans and Pakistan Super league lovers search these keywords and support their favorite team, here in this article is about Lahore Qalandars' information like who's is the owner. How many times has Lahore qalandar won the PSL league many more questions are in their minds.
Lahore qalandars owner
Lahore qalandars roster
who is Fawad Rana?
Lahore Qalandars squad
Lahore qalandars trials
Lahore qalandars trials schedule
PSL 20232 players list Lahore qalandars
Lahore qalandars song
Pakistan Super League also known as PSL was sponsored by HBL. It is a franchise of twenty20 cricket leagues that was established by the Pakistan Cricket Board in 2015. HBL became the partner of PSL in November 2018 for the next three years up to 2023.
Pakistan Super League Teams
In PSL, every team will consist of 10 players. Eighteen players will constitute a squad having 2 supplementary players. In PSL's eighth edition, there will be six teams that will play against each other, and everyone trying to win the trophy of PSL. There is a possibility that a seventh team, Middlesex, will play. But let's see how the talks between ECB and PCB play out.
SEE MORE:- PSL COMMENTATORS
Teams of PSL 8
In PSL, six teams will play against each other, and their names are given below:
Lahore Qalandars
Peshawar Zalmi
Karachi Kings
Islamabad United
Lahore Qalandars Squad

Shaheen is the spearhead of the bowling attack. With him and pacers like Dilbar Hussain, who can change the face of the game scenario, there is no doubt that the bowling department is strong. They look forward to Jordan Cox in the batting lineup and have high hopes for him. Fakhar Zaman is enthusiastic about playing big shots. Only time will tell if the decisions during bidding were right or wrong.
Related: PSL Tickets Price
OWNER OF LAHORE QALANDARS
The owner of Lahore Qalandars is Fawad Rana, the owner of Qatar Lubricants Company.
Fawad Naeem Rana is a Pakistani entrepreneur who manages the Lahore Qalandars. He also serves as the MD of QALCO, situated in Doha. He appeared out of the blue and has since emerged as an important component of the Pakistan Super League because of his spirited, passionate, and spectacular appearances in Lahore Qalandars games.
Fawad Rana knew nothing about cricket. Thus, team leadership and growth were delegated to his siblings, Atif and Sameen Rana. He is the individual who is putting money into the squad. He stated that he is treating this as a corporation and is not concerned about the deficits they are experiencing. But now that Lahore Qalandars are the defending champions in PSL 8, Fawad must be very happy. He is one passionate fan, I must say.
This much is certain, this guy has a particular place within the hearts of every Pakistani, and believe me, it used to sting when the Lahore Qalandars would lose. Not due to the team but rather due to this person's emotions. Thank you, Fawad Rana, for this squad and for delighting our nation. And thank you for trusting LQ. Now you can do the Bhangra after Lahore is the defending champion. You deserve it.
CAPTAIN
Shaheen Afridi is the captain of Lahore Qalandars.
Here in this section, we will tell you about the PSL players list of Lahore qalandars in three categories, like batsman, bowlers, and all-rounders, with names given below in detail.
BATSMAN OF LAHORE QALANDAR
Here in this section, we will tell you about the Lahore qalandar squad 2023. As a batsman, nine players are used. Their names are given below:
Fakhar Zaman
Abdullah Shafiq
Sikandar Raza
Mirza Tahir Baig
Harry Brook
Shawaiz Irfan
Jordan cox
Although Sikandar Raza has failed to show any skills as a batsman, he acted as the wall whenever there was a collapse in their batting lineup. Fakhar Zaman is the powerhouse for the Qalandars. But the player that acts as the X factor in their Batting lineup is Abdullah Shafiq. Although considered a calm middle-order batsman, he has some bombastic innings in his name.
BOWLERS OF LAHORE QALANDARS
In the bowler's field of Lahore Qalandars, seven players are used and their names are given below:
Shaheen Shah Afridi
Rashid Khan
Haris Rauf
Dilbar Hussain
Ahmad Daniyal
Zaman Khan
Jalan Khan
All ROUNDERS OF LAHORE QALANADARS
In all-rounders of Lahore Qalandars :
David Wiese
Hussain Talat
Sikandar Raza
Liam Dawson
Kamran Ghulam
Kamran Ghulam! Yes, that's it. That's the line. Kamran has been a crucial part of Pakistan all these years because of his abilities as an all-rounder. Let's see what the lefthander's bane is going to show for PSL.
LAHORE QALANDARS FOREIGN PLAYERS
In Lahore Qalandars eight members are included from overseas countries. Their names are given below:
Rashid Khan
David Wiese
Sikandar Raza
Liam Dawson
Harry Brook
Jordan Cox
LAHORE QALANDARS PERFORMANCE
Lahore Qalandars played 26 matches in which they won 8 and lost 17. Therefore, their overall percentage is 30.76%, and they got the 5th position in PSL.
Live- Lahore Qalandars News Update
You can also read Live Blog – Lahore Qalandars 2024 News Updates in this section.
The Bank of Punjab partners with the Qalandars
10 February 2024
The Bank of Punjab has struck a collaboration arrangement with Lahore Qalandars before the HBL PSL 9. Mr. Zafar Masud (President & CEO – BOP) and Mr. Atif Naeem Rana inked the contract at an event at Bagh-e-Jinnah, Lahore. Star players Shaheen Shah Afridi and Fakhar Zaman, as well as other Lahore Qalandars stars and top executives from both organizations, attended the occasion.
Most notably, the Lahore Qalandars and Sports Board Punjab collaborated to foster the growth of women's cricket through the Player Development Program. Promoting local women's cricket is an outgrowth of BOP's corporate culture of Banking on Equality and Inclusion.
Keep Enjoy Today's match at our website.
Shaheen Afridi – A team man
8 February 2024
Shaheen Shah Afridi, the skipper of the Lahore Qalandars, has urged his colleagues to play for the squad, which he describes as a clan. Last year, Qalandars won the PSL by defeating Multan Sultans by 42 runs in the finale. Nobody should believe he can clinch a spot in the next match by performing for himself, Afridi said in a video message to the players before a training match.
Afridi advised his teammates to make the club their home and to look out for one another like family. The Qalandars captain urged players to focus on victory together and moving ahead "united". Afridi also emphasized the significance of mutual respect.
Lahore Tea Festival Lucky Draw
In Lahore Tea Festival, Lahore Qalandars arranged lucky draws for their fans and distributed various prizes among fans. In that, there were free tickets to a lot of gift hampers. And if you want to know something else, fans could also click photos with the PSL trophy. It was your lucky day if you were there as an LQ fan. Anyways, the winners of the lucky draws were from different cities. We will update the winners on this website.
Winners on 1 January
Name
City
Sajid Hussain
Muzaffargarh
Junaid Banaras
Islamabad
Hamza Naeem
Lahore
Saqlain Naseer
Lahore
Kashif Gujjar
Lahore
Hamza Butt
Lahore
Yasir Mir
AJK
Afraz Talat
Lahore
Talha
Narowal
Winners on 2 January
Atta ur Rehman
Lahore
Zabiullah
Abbottabad
Ahmad Usman
Lahore
Hassan Ilyas
Sargodha
Rubbas Mughal
Karachi
Mahavira Jamshaid
Lahore
Ali Hussain
Lahore
Sarmad Janjua
Lahore
Umm e Habiba
Lahore
Jordan Cox selected in England Lions for Sri Lanka tour 2024
Jordan Cox has been named to the England Lions squad for their upcoming trip to Sri Lanka. To be a member of this squad, also called the A team, is an incredible accomplishment for any emerging cricketer and demonstrates Jordan's ability and devotion. This pick benefits Jordan and his Pakistan Super League side, the Lahore Qalandars.
Jordan's stint with the England Lions will give him crucial knowledge and exposure to help him perform better once he goes to the Qalandars. He will be able to gain insight from elite English players and reinstate new skills and plans to the PSL. Jordan will also benefit from playing against great opposition in Sri Lanka, which will help him adjust and enhance his skills.
Furthermore, Jordan's inclusion in the England Lions is an acknowledgment of his ability, and it will provide distinction to the Lahore Qalandars. This will motivate other talented youngsters, which is critical for the team's long-term success.
In conclusion, Jordan Cox's inclusion in the England Lions' trip to Sri Lanka in 2023 is an excellent chance for him to develop as a player. It will help the Lahore Qalandars in the upcoming PSL tournament. Whenever he comes to the Qalandars, it will be wonderful to observe the influence of his experiences and better talents.
The defending champs will start training
Lahore Qaladars, the defending champions, will start their training on 4 February 2023 and kick off their preparation for PSL 8.
A six-day training session will be conducted as a component of the preliminaries at the state-of-the-art Qalandars High-Performance Centre in Lahore.
The entire Qalandars team, including skipper Shaheen Shah Afridi, will be present during the session, which will end on February 9. Aaqib Javed, Director of Cricket Operations for the Lahore Qalandars, has revealed that the six-day program would involve intra-squad practice games and intensive net workouts.
Lahore Qalandars will face Multan Sultans in the tournament's inaugural game on February 13 at the Multan Cricket Stadium after a lively inauguration ceremony.
Aqib Javed is happy about the training session. He told the media:
"To retain the trophy, we have organised a comprehensive PSL campaign, and all of our top players will arrive on February 4 in Lahore. "
Shaheen to design the LQ jersey?
Shaheen Shah Afridi, the skipper of the Lahore Qalandars, will be designing his squad's jerseys for the PSL eighth edition. Atif Rana, the Qalandars' owner, stated in a video released on the club's social media pages that shaheen will create the team's jerseys this year. Atif Rana said that Shaheen, who guided the team to their first championship last year, is not just the skipper but also the team's leader.
Shaheen Shah Afridi said this month that he had finished his recovery in Lahore and is prepared to return to cricket.
The PSL Predictions are updated on our website.
CAN ANY TITLE WIN LAHORE QALANDAR
No, anyone title won the PSL, but performance in many matches will little be good because the ratio of losing a match will be greater than winning matches.
FREQUENTLY ASKED QUESTIONS
Who owns Lahore Qalandars?
Rana brothers own the franchise. You must have seen how the owner is always enthusiastic and loves to see the matches
Who is Sameen Rana?
She is the COO of the franchise.
Who is the coach of Lahore Qalandars?
Aqib Javed has been Lahore Qalandars's coach since this tournament's inception. He also started a talent hunt for the team to find raw talent from the streets.
Has Lahore ever won PSL?
Yes, they have won the PSL. LQ won the title by defeating Karachi Kings in the finals.
Is Atif Rana the brother of Fawad Rana?
Fawad Rana can be considered the owner of the franchise. Atif Rana, his brother, is the CEO of the franchise Lahore Qalandars.
We time updates information. This is the Latest Squad of Lahore Qalandars 2024 with all players.