Multan Sultans Squad 2024 [PSL 9 Squad] – CONFIRMED
The other PSL south team Multan Sultans Squad 2024 With Players Performance, is a Twenty20 franchise cricket team, and it was formed in 2017 to add another twist to the HBL PSL. Sultan is an Arabic word that means authority, and it stands for those rulers who were powerful enough to rule over the world and also independent.
PSL Winner List Year Wise is also updated.
MULTAN SULTAN PLAYERS LIST 2023
Player
Category
Role
David Miller
Platinum
Batsman
Muhammad Rizwan
Batsman
Joshua Little
Bowler
Shan Masood
Diamond
Batsman
Rilee Rossow
Batsman
Khushdil Shah
batsman
Tim David
Gold
batsman
Shahnawaz Dhani
Bowler
Akeal Hosain
Bowler
Muhammad Sarwar
Silver
Allrounder
Usman Khan
Batsman
Anwar Ali
Allrounder
Sameen Gul
Bowler
Usama Mir
Bowler
Ihsan Ullah
Emerging
batsman
Abbas Afridi
bowler
Arafat Minhas
Supplementary
Allrounder
Adil Rashid
Bowler
Multan Sultans Schedule PSL 9
The Match Schedule of PSL 9 Multan Sultans.
| | | |
| --- | --- | --- |
| Date | Match | Venue |
| Monday, February 13, 2024 | MS v LQ | Multan |
| Wednesday, February 15, 2024 | MS v QG | Multan |
| Friday, February 17, 2024 | MS v PZ | Multan |
| Sunday, February 19, 2024 | MS v IU | Multan |
| Wednesday, February 22, 2024 | MS v KK | Multan |
| Sunday, February 26, 2024 | KK v MS | Karachi |
| Saturday, March 4, 2024 | LQ v MS | Lahore |
| Tuesday, March 7, 2024 | IU v MS | Rawalpindi |
| Friday, March 10, 2024 | PZ v MS | Rawalpindi |
| Saturday, March 11, 2024 | QG v MS | Rawalpindi |
Replacement Draft
The following are the players picked in this draft. Also, they picked some players in the supplementary category.
Replacements
Player
Non-availability status
Replacement
Adil Rashid
Full
Wayne Parnell
David Miller
Partial
Izharul haq Naveed
Akeal Hosein
Partial
Reserved
Tim David
Partial
Reserved
Supplementary Picks
Player
Nationality
Role
Kieron Pollard
West Indies
All-rounder
Ammad Butt
Pakistani
All-rounder
Adil Rashid was set to debut in PSL 2024 this year. He has been pretty effective on Pakistani pitches. His excellence in the T20 format speaks for itself. He was going to be an asset for the Multan Sultans bowling lineup this year. But he had to honor his duty for England as his team had some other international series in this time frame. They will play Bangladesh. So, Adil will be playing that series with the Bengal Tigers instead of playing for Multan Sultans. The Sultans replaced him with the all-rounder Wayne Parnell in this replacement draft. Hope that he does well for the team.
Its home ground is Multan Cricket Stadium, and its capacity is 35000 people. So please read this post till the end because we are discussing the Multan sultan squad in detail here. MULTAN SULTAN SQUAD UPDATED. We are describing the Multan sultan players with their performance; let's come to read till the end.
Sultan fans Are You Ready? PSL Ticket Online Booking is started.
All Teams Squad
You can view Lahore Qalandars Players. We also Updated Peshawar Zalmi Squad with the Quetta Gladiators players list for you. While Karachi King Squad 2024 and Quetta Gladiators Players are also updated.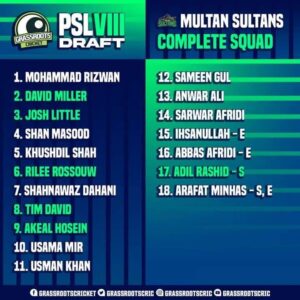 | | |
| --- | --- |
| Captain | Muhammad Rizwan |
| Team | Multan Sultans |
| Owner | Alamgir Khan Tareen |
| Winning Prediction | 50% |
| Brand Ambassador | Shahnawaz Dhani |
Multan Sultan Squad Player's Performance
The Multan sultan team is based in Multan and was formed in 2018 to complete the Pakistan Super League. This team's purpose is to bring excitement and entertainment to the region's people and create a significant mark in the tournament.
Read:- PSL Schedule 2024 Timetable
4 Players were called for the ODI series against New Zealand
Multan Sultan, a stalwart in the Pakistan Super League (PSL), has four players in the national squad for the One Day International (ODI) campaign versus New Zealand. Muhammad Rizwan, Usama Mir, Shan Masood, and Shahnawaz Dhani will represent their nation on the world scene, demonstrating the depth and excellence of the Multan Sultan team. This choice also reflects these athletes' hard effort and devotion, who have pleased managers and scouts with their on-field achievements.
This is very great news for the Multan Sultan squad and its supporters. Watching athletes serve their nation is always exciting, and the idea that four players from the same squad were picked shows the team's strength. We wish Muhammad Rizwan, Usama Mir, Shan Masood, and Shahnawaz Dhani the best of fortune in their ODI series against New Zealand, and we hope to witness more of their skill on the field in the future.
OWNER OF MULTAN SULTAN
The owner of Multan Sultan is Alamgir Khan Tareen. Mr. Tareen was an undergrad at UC Berkeley and had a master's degree from the esteemed Yale University.
Let's talk about his business endeavors in detail:
Mr. Alamgir Khan Tareen has earned a reputation as a prominent entrepreneur in South Punjab.
He has served as the MD of Shamim and Company (Pvt) Ltd, which operates as PepsiCo's authorized supplier and licensee for South Punjab, since 1990.
Mr. Tareen also runs one of the nation's most extensive water purifying facilities.
But why is he the man to lead this franchise or club?
Mr. Tareen, a sports fan who believes strongly in the significance of athletics in societal betterment
He wishes to work to develop a solid foundation for young sportsmen and women and provide individuals with the most effective tools necessary to advance their abilities further.
Mr. Tareen is also the motivating factor behind the club's data-driven strategy.
He was also very passionate about moving the PSL back to Pakistan. When the PCB decided to hold the remaining 20 matches of that season in Pakistan, Mr. Tareen supported this by giving the following statement, which is a testament to his devotion to Pakistan cricket.
It will be cricket that will be the winner – Alamgir Khan Tareen
COACH OF MULTAN SULTAN
Andy Flower coaches the team. Haider Azhar plays the roles of GM of Cricket Operations and Team manager. Mushtaq Ahmad is the spin bowling coach.
CAPTAIN OF MULTAN SULTAN
Multan sultan team captain is Muhammad Rizwan.
Captain nominated for T20 player of the year.
For 2022, Rizwan is nominated as the ICC Men's T20 player of the year. And why wouldn't he be appointed? He has had some outstanding performances this year. Riz has created an impact on the team. The team is incomplete without him. What makes him eligible for this award? Everything that is required in a T20 player has been in him for quite some time. Rizwan is passionate about the game and has good pull shots to send the ball out of the park. His charisma made the Peshawar Panthers winners of the Faysal Bank T20 tournament, defeating the giant Sialkot Stallions. Will he be able to win the ICC T20 Men's player of the year? We will tell you if that happens. The other nominees are Sam Curran (the most expensive player of IPL 16), Sikandar Raza, and Suryakumar Yadav.
BATSMAN OF MULTAN SULTAN SQUAD
In the batsman of Multan Sultans, four Pakistani players are used, and their names are given below:
David Miller

Muhammad Rizwan

Shan Masood
Rilee Rossow
Khushdil Shah
Tim David
Ihsan Ullah
Usman Khan
This is quite a peculiar batting lineup. Most of the players are not considered to be T20 batting specialists. But, the performances given by Shan Masood in the last PSL showed us that he can be explosive in the format. Hence, let's see what he does for Sultans this time. Rizwan is going to be a show-stopper.
BOWLERS OF THE MULTAN SULTAN TEAM
In the bowlers of Multan Sultans, five Pakistani players are used, and their names are given below:
Joshua Little

Shahnawaz Dhani
Akeal Hosain
Sameen Gul
Usama Mir
Abbas Afridi
Adil Rashid
The bowling department seems to be quite reliable. Things look pretty promising for the Sultans, with Dhani and Joshua as their spearheads with the new balls. Dhani needs to introduction. He has made a plan in the hearts of Pakistani cricket fans. His fast-paced deliveries with a mix of bouncers and yorkers will prove a game changer for Multan.
In the spin department, Usama Mir and Adil Rashid can provide frequent breakthroughs with their leg spin. Akeal Hossain can be an impactful player as well. He also went for a pretty high price in IPL, which accounts for his trust in franchises.
We have to see how things go to be sure.
ALL-ROUNDERS OF MULTAN SULTAN
In all-rounders of Multan Sultan, six players are used, and their names are given below:
Muhammad Sarwar
Anwar Ali
Arafat Minhas
All-rounders are an essential part of a T20 squad. And the All-rounders that are part of the team this time are bound to do magic for the sultans. Let's see how they perform this season.
OVERSEAS PLAYERS IN MULTAN SULTAN
In overseas players of Multan Sultan, Six players are used, and their names are given below:
David Miller
Joshua Little
Rilee Rossow
Tim David
Akela Hosain
Adil Rashid
PERFORMANCE OF MULTAN SULTAN
Multan Sultan played 10 matches, whereas they won 4 and lost 5. That's why their overall percentage is 44.44%, and they got the 5th position in PSL. So, PSL team ranking-wise Multan sultan will be in 5th position.
MULTAN SULTAN WIN ANY TITLE
No, the sultans do not have any title under their name. But they did show their strong resolve last season. Let's see if they will clench it this time and successfully win their first-ever PSL win or not.
Read:- Islamabad United Squad PSL 9
Hopefully, this article "Multan Sultan Squad" will be very informative for PSL fans, so if you like this post, share it with your friends. Our website provides Latest News, PSL 8 Points Table, and Live Streaming free for everyone. Enjoy PSL 2022 with us.
Multan Sultan news – Live blog
Here, you will read everything relevant to your favorite teams. So my fellow Sultans, are you ready?
Andy Flower wants the team to work hard
10 February 2024
Andy Flower, Head Coach of Multan Sultans, feels his team has the potential to capture the Pakistan Super League (PSL) championship for the eighth time. Multan won their first PSL title in 2021 and finished second in 2024. He stated that the squad should look forward with optimism and anticipation. We all want to be optimistic about Multan's outcomes. It is critical to recognize, especially in our changing room, that you cannot control results to a big extent. You influence your mindset when you arrive at training or perform in a contest.
FREQUENTLY ASKED QUESTIONS
Who is the vice-captain of Multan Sultans?
Shan Masood has emerged to be the vice-captain of the team. Although no one expected him to be this good in this format. But, he has earned his place on this team
Who is Multan Sultan's coach?
At first, Tom moody was the coach for the team. But now, Andy flower is their coach. Andy has proved time and time again that he is a fine coach. He has prior experience coaching Pakistan national team as well.
Is Shahnawaz Dhani in Multan Sultans?
Yes, he has represented Multan Sultans in previous PSL seasons
Has Multan Sultans won any PSL trophies?
No, the team has yet to win any PSL season. With this sort of team, they are bound to win this time.