Islamabad United Squad 2024 – PSL 9 [CONFIRMED]
Here is the PSL 2024 Islamabad United team squad with the player and their profiles.
The Islamabad United squad for PSL 9 is declared in Pakistan Super League drafting. IU Twenty 20 franchise cricket team that compares in the Pakistan Super League. This team was formed in 2015 to complete its first PSL. All information is updated in real-time today.
Read:- PSL 2023 Winner
ISLAMABAD UNITED PLAYERS LIST 2024
Players names
Category
Alex Hales
Platinum
Rahmatullah Garbacz
Shadab Khan
Asif Ali
Diamond
Muhammad Wasim Jnr
Fazal Haq Farooqi
Azam Khan
Gold
Faheem Ashraf
Hasan Ali
Paul Stirling
Silver
Colin Munro
Sohaib Maqsood
Rumman Raees
Abrar Ahmad
Hasan Nawaz
Emerging
Zeeshan Zamir
Moeen Ali
Supplementary
Mubasir Khan
Islamabad United Replacement draft players
Now, let's see which players got replaced and their availability status.
| | | |
| --- | --- | --- |
| Player | Non-availability status | Replacement |
| Rahmanullah Gurbaz | Partial | Gus Aktinkson |
| Alex Hales | Partial | Tymal Mills |
| Fazal Haq Farooqi | Partial | RESERVED |
| Moeen Ali | Partial | RESERVED |
The following players were selected additionally for the supplementary category.
| | |
| --- | --- |
| Name | Nationality |
| Tom Curran | England |
| Zafar Gohar | Pakistani |
We are updating in real-time. All Category Players are updated. this is the Islamabad United Squad For PSL 9.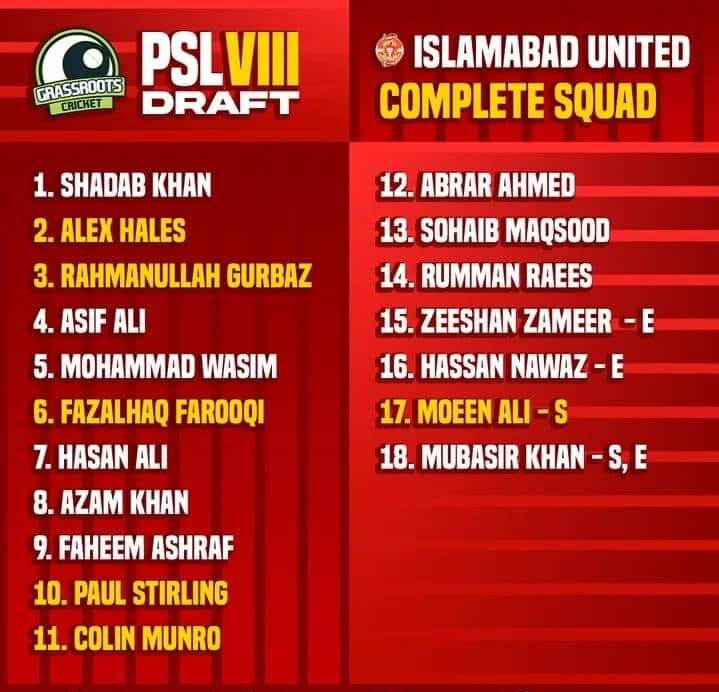 All Teams
The Lahore Qalandars, as well aas well Quetta Gladiators Players are updated. The PSL points table is updated every day, on our website.
PROGRESS OF ISLAMABAD UNITED
| | |
| --- | --- |
| Captain | Shadab Khan |
| Team | Islamabad United |
| Owner | Ali Naqvi & Amna Naqvii |
| Winning Prediction | 60% |
| Brand Ambassador | Asif Ali |
Islamabad United played 32 matches in PSL, whereas they won 20 matches and got an overall position is 62.50%. Islamabad United got the 4th position. They defeated Peshawar Zulmi by 3 wickets.
Islamabad United Players With Performance
This team's main purpose is to provide a global sports entertainment experience. Here we discussed Islamabad United Squad with all player's performances.
In Islamabad United, the symbol lion represents the team's spirit of pride, majesty, and confidence. Lion's head shows the reaffirmation that the team will play each game in absolute team spirit, like the pride of lions.
Related:- Karachi Kings Squad
Team Kit
Team Kir For PSL 2023 Will be Added here soon. We updated every piece of content.
OWNER OF ISLAMABAD UNITED
Leonine Global Investments own Islamabad United through its sports entity, Leonine Global Sports, owned by Amna Naqvi and Ali Naqvi.
ISLAMABAD UNITED COACH
The team GM is Rehanul Haq, and the bowling coach is Saeed Ajmal. While Azhar Mehmood is going to be the coach of the team.
Azhar Mehmood as a coach – Is he good?
Azhar Mehmood as a player? Phenomenal. That is the only world that can describe his career as a cricketer. He was a bowling all-rounder who had experience playing cricket all over the world. Be it IPL or his stint in the county cricket, he has been the core wherever he went.
But is he equally suitable as a coach? Let's try to answer this question. If we talk about PSL, he was one of the senior mentors for Islamabad United in 2016. If you are a United fan, then you remember that year because it was the inaugural season of PSL, and Islamabad United won it. United, we win!
Azhar Mehmood was named Pakistan's bowling coach in November 2016. During that year, he had two brief periods in a similar state with the national squad.
He was the bowling consultant for the Pakistan team that lifted the 2017 ICC Champions Trophy and rose to the top of the ICC T20I standings. Azhar was the Bowling Coach for the Multan Sultans, who won their maiden PSL championship in 2021. He was named the head coach for the United last year.
Will he guide the ISLU toward their 3rd title? Let's watch PSL together to find this out.
CAPTAIN OF ISLAMABAD UNITED
Shadab khan is going to be the captain of Islamabad united. It is not like he was just handed the position out of the blue. He has been serving as vice-captain for quite some time now. And how he has been given a chance as a captain. His bombastic batting and sly wrist spin make him a great value addition to the team. But what is going to be beneficial for him as a captain is his aggressive attitude?
BATSMAN OF ISLAMABAD UNITED SQUAD
In the batsman of Islamabad, the following are playing as batsmen
Asif Ali

Alex Hales

Colin Munro
Hassan Nawaz
You can pretty much see that this batting lineup is going to be fire. Not only do they have a bombastic player like Asif Ali, but they also have both left-hand and right-hand combinations. This is going to be very helpful for Islamabad United. Seems like the selectors did a pretty decent job on this one.
BOWLERS OF ISLAMABAD UNITED SQUAD
In the bowlers of Islamabad, United, five Pakistani players are used, and their names are given below:
Muhammad Wasim Jnr

Fazal Haq Farooqi
Hasan Ali
Rumman Raees
Abrar Ahmad
The interesting thing about this bowling lineup is the return of Ruman Raees. He is now back in action.
ALL-ROUNDERS OF ISLAMABAD UNITED
In all-rounders of Islamabad United
Paul Stirling
Shadab Khan
Faheem Ashraf
Zeeshan amir
Moeen Ali
Mubasir khan
All of these have played for Pakistan at some point in their careers. We can say they are bowling all-rounders but are not short on the batting department. Can we forget those sixes from Shadab and Faheem?
OVERSEAS PLAYERS
In overseas players of Islamabad, United, six players are used, and their names are given below:
Colin Munro

Alex Hales
Rahmanullah Gurbaz
Fazal Haq Farooqi
Paul Stirling
Moeen Ali
The lineup of international players looks very interesting this year. These are impactful players who have won matches for their national sides.
Munro is the T20 opener you want in a T20 squad. He has a strike rate of over 150 and averages 30 as an opening batsman in T20i. He can provide ISLU with the quick runs they need in powerplays.
Moeen Ali has evolved into a useful all-rounder. He entered the scene as a batsman, but he has improved his bowling to the point where he can get breakthroughs for the team. His fellow English Batsman, Alex Hales, will also represent ISLU.
Hales has been a tremendous help to the United and consistently provided good starts for the team. Gurbaz, with a firey attitude, can destroy any bowling line-ups. And with Paul's experience in the mix, the team's dugout becomes a mixture of different flavors that everyone can benefit from.
ISLAMABAD UNITED WON ANY TITLE
Yes, this PSL team Islamabad United, won 2 times this PSL title, one win in 2016 and the other won in 2018, so this has been a great performance in Pakistan Super League.
Islamabad United Fan Club
Yeah, you heard that right. Now you can become a member of the ISLU Fan club. IU is giving a special platform to its special fans. This fan club is your chance to officially become a part of the ISLU family. Now, you can register in the fan club and get a digital version of your membership card. This will be a personalized membership card. Through this membership, you will get different benefits, such as discounts on ISLU merchandise, access to exclusive content, meet-ups, and much more. The registration process is easy; you have to scan the QR code on the website, fill out the form, and get register.
the ICC World Cup 2023 Schedule PDF is also updated.
ISLU continues its partnership with TCF
Islamabad United is thrilled to announce that they will maintain their cooperation with The Citizens Foundation (TCF) for the 8th edition of the Pakistan Super League. TCF is one of Pakistan's prominent associations in schooling for the underprivileged. They had collaborated with Islamabad United in earlier seasons of the PSL. Presently, their programs serve countless students across Pakistan, with over 1,800 institutions. TCF's skill acquisition project, Aagahi, was awarded the Confucius Prize for Literacy by UNESCO in 2017.
The owner of the team was happy about the partnership. He said in a press release that our team is dedicated to being a positive force in Pakistan and beyond. We believe in being a responsible and forward-thinking company and are committed to using our resources to empower and educate. Our partnership with TCF is just one way we are demonstrating this commitment. We see the promotion of learning and empowerment as key components for the growth and development of our society and are proud to be a part of this vital work. In short, our efforts in Pakistan and beyond are guided by a desire to make a positive impact and contribute to the betterment of our communities.
All about ISLU
In this section, you will read all the news about Islamabad United. Let's go!
Why is Islamabad United not allowed to practice on home ground?
11 February 2023
Islamabad United would be unable to train at the Pindi Cricket Stadium in Rawalpindi before the championship's eighth season.
United sought to organize some training sessions on their home ground, as per insiders, but the Pakistan Cricket Board (PCB) declined their demand for security and logistical concerns. Islamabad's players will land in Karachi later today for practice.
The United team, though, will be missing captain Shadab Khan. Except for the Multan Sultans and Lahore Qalandars, who will play their first PSL match on February 13 in Multan, all the other sides are training in Karachi ahead of the game.
On February 16, Islamabad United will face Karachi Kings at the National Bank Cricket Stadium in Karachi.
Ufone joins the ISLU camp
10 February 2023
Islamabad United, the most successful team in the HBL PSL record and champion of the championship's inaugural and third seasons, has confirmed that Ufone 4G would be the team's official telecoms partner for PSL 8.
The team owner said:
"We are delighted to work with one of Pakistan's premier telecommunications firms. Ufone is a well-known brand in Pakistan. Nothing unifies the country more than cricket, which all Pakistanis love. Marketing Islamabad United and cricket is an attempt to bring the nation together and offer joy to the populace. As a result, we are overjoyed that Ufone, which links the country, has agreed to become an official sponsor of Islamabad United."
Does Asif Ali break most sixers' records in PSL?
4 February 2023
Asif Ali of Islamabad United is moving in on beating Kamran Akmal's Pakistan Super League mark for most sixes. With 89 sixes to his credit, Akmal presently leads the chart.
While Ali is in 3rd with 79. Ali has 270 maximums in 233 T20 games, averaging more than one six per match. Thus far, he has 4220 runs in T20 cricket at a strike rate of 147.24, with one hundred and fourteen fifties.
Will Asif break this record? At this rate, we are pretty sure he will.
Colin Munro on Hassan Nawaz
Colin Munro is excited to work with the young and talented Hassan Nawaz. He told the media he would take on a new job with Islamabad United as a mentor this year. Munro said that he had learned a lot as a player through playing in various competitions with different types of players; his ambition is to pass on that knowledge to younger players.
Hassan Nawaz is a unique new talent, and he would want to collaborate with him during training sessions, hoping to share vital expertise with him. Apart from that, playing for Islamabad United is always a pleasure.
Frequently Asked Questions – FAQs
Who is going to be the vice-captain of the team?
Asif Ali is going to lead the team as their vice-captain
Is Ruman Raees back in the playing eleven?
Not everyone out there seems to know he is back in the squad. Yes, he was injured at first. But now he is out of rehab and is ready to deceive the batsmen with his sly slower ones. We updated Multan Sultans Squad here.