Karachi Kings Squad 2024 – PSL 9 [UPDATED]
In this post, we are going to tell the Karachi Kings squad 2024 is a T20 cricket team of PSL. This team represents Karachi which is the provincial capital of Sindh. The team was formed in 2015 as a result of the formation of PSL. The latest Information updated.
The PSL Schedule 2024 is also updated. The PSL 9 Live Streaming is available on our website.
The PSL Winners List 2016 to 2023 is also updated.
Karachi Kings Squad
In this section, we will talk about the Karachi kings players with performance, so read this post till the end.
Player Name
Category
Haider Ali
Platinum
Mathew Wade
Imran Tahir
James Vince
Diamond
James Fuller
Imad Wasim
Shoaib Malik
Gold
Muhammad Amir
Andrew Tye
Sharjeel Khan
Silver
Tayyab Tahir
M. Ahlaq
Aamer Yamin
Mir Hamza
Irfan Khan Niazi
Emerging
Qasim Akram
Tabraiz Shamsi
Supplementary
Muhammad Umar
Replacement Drafts
The following players were picked in the replacement drafts. Karachi kings also have their players for the supplementary category.
Player
Non-availability status
Replacement
Tabraiz Shamsi
Partial
Faisal Akram
Supplementary category
Player
Nationality
Role
Ben Cutting
Australian
All-rounder
Musa Khan
Pakistani
Right-arm Fast-medium bowler
All Teams Squad
| | |
| --- | --- |
| Captain | Imad Wasim |
| Team | Karachi Kings |
| Owner | Salman Iqbal |
| Winning Prediction | 80% |
| Brand Ambassador | Muhammad Amir |
The Karachi Kings Silver category Players list is updated here. Its home-based ground is National Stadium.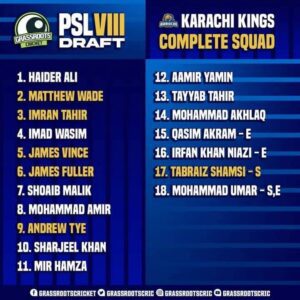 We Updated PSL Lahore Qalandars, Squad. Multan Sultans Players as well Quetta Gladiators Squad. The PSL Points table is updated.
BATSMAN OF KARACHI KINGS
In the batsman of Karachi Kings, 5 players are used. Their names are given below:
Haider Ali
James Vince
Sharjeel Khan
Tayyab Tahir
We all have witnessed the clean hitting from Haider in the past season. His ability to hit the ball outside the park is amazing. People have been comparing him with the likes of Babar when it comes to charisma and performance, but he hasn't been able to show that consistency. Wasim Akram is hopeful to train him to be a great player in PSL 8
Tayyab Tahir is an emerging batsman. His clean strokes win the hearts of everyone. We have seen the aggressive play of James Vince as well. He is a match-winner.
the ICC World Cup 2023 Schedule PDF is also updated.
Sharjeel could have been an opener for Pakistan consistently, but the spot-fixing scandal took a lot from him. But he is positive to make a comeback. He swept Twitter away with his new look and improved fitness. But, does he still have that power to hitting the ball a million miles away? Let's see PSL 8 for that.
BOWLERS OF KARACHI KINGS
In the bowlers of Karachi Kings, three players are used. Their names are given below:
Mohammad Amir
Imran Tahir
Andrew Tye
Aamer Yamin
Mir Hamza
Irfan Khan Niazi
Tabraiz Shamsi
Muhammad Umar
ALL-ROUNDERS OF THE KARACHI KINGS
In the All-rounders of Karachi Kings, three players are used. Their names are given below:
James Fuller
Imad Wasim
Shoaib Malik
Qasim Akram
The All-Rounders in this team are definitely not to underestimate. Aamer Yamin has been one of the top performers in domestic cricket. And Imad Wasim has been in the top rankings for T20 when it comes to All-rounders. So, KK is definitely a tough side this year.
The PSL Tickets bookings are started.
OVERSEAS PLAYERS OF KARACHI KINGS
In overseas players of Karachi Kings, six players are used. Their names are given below:
Imran Tahir
James Vince
James Fuller
Tabraiz Shamsi
Mathew Wade
You may not think that overseas players are any special, but over the years each player has proven their worth. We have witnessed Ben Dunk become a match winner and we have also seen Ravi Bopara pull Karachi kings out of a lot of tough situations.
OWNER OF KARACHI KINGS
The owner of Karachi Kings is Salman Iqbal, the owner of ARY Group and the CEO of ARY Digital Network.
ARY is one of the biggest networks in the media industry in Pakistan. It has cemented its name in the media industry with many channels ranging from sports and news to entertainment and music. And the man behind all of it is Salman Iqbal.
The same Salman Iqbal is the owner of Karachi kings. He is an avid cricket fan and can be seen in the stadium during Karachi's PSL matches. Salman was quite disappointed last year when Karachi didn't perform well in PSL. Man, did he have to face much trolling on social media because of that? The context of that trolling was that he trolled Lahore Qalandars for not doing well. But the Karma got him good I guess. But these things happen in sports all around the world. He means well.
On March, he was presented with one of the highest civilian honors, "Sitara-e-Imtiaz" for his services to Pakistan and its image-building all over the world through the power of media.
Read:- PSL WhatsApp Group Join Link
CAPTAIN OF KARACHI KINGS
Imad Wasim is the captain of the Karachi Kings.
Karachi King's social media management disclosed on Twitter that the team authorities were delighted to announce that Imad Wasim will lead their team in PSL 8. Before, the national team captain Babar Azam used to lead their squad in HBL PSL. But since he joined Peshawar Zalmi as their captain, there has been a void in the King's dugout. But lo and behold, Imad Wasim is here to fill that gap. Why Imad seems a viable choice for this role? Imad, Kings' top all-rounder, formerly led the team for 4 seasons and guided them to their first PSL triumph in 2020. After the fiasco last year, it is time that Imad brings the old zeal back into the squad and leads them to another victory. Will Karachi roar again? Let's find out under his captaincy
COACH OF KARACHI KINGS
The head coach of Karachi Kings is Johan Botha
Karachi Kings Kit
It is your chance to become the creative king of your team. Kings are doing things differently this time. They have set a new tradition. The team is asking you to participate in the creative process and help them design their shirt for the 8th season of the game. Isn't that exciting? If you win, you will get a chance to become their Design ambassador and win 250000 PKR. For more details, keep reading.
The fans can design jerseys for the roaring lions of Karachi and send them to [email protected]. If you can win, not only will you get the prizes we mentioned above, but also you will get a signed bat or ball by your favorite Karachi kings player.
Now, what do you have to do? Nothing difficult. If you have decent design skills, you must design the shirt by keeping the following things in mind.
The shirt has to look strong and aggressive, just like the kings
You can use any software you want, and present the shirt in a "mock-up" style.
Applicants can represent Karachi kings in the best way that they can. They can do it by using the logo of the team, a lion, or you can also incorporate anything you like about Karachi.
So buck up fellow Karachiites, this is your time to shine and roar just like the team.
PSL KARACHI KINGS PLAYER'S PERFORMANCE
Karachi kings played 31 matches in 3 PSL in which they won 12 matches whereas they lost 18 matches. That's why their overall progress is 40% in all the tournaments. In PSL 2017, they got 3rd position as they won 5 out of 10 matches.
cricketworld.net dedicated website about PSL 8 already shares the team squad of all Pakistan Super League teams.
We Also Updated Pak Vs NZ Squad on our website. PSL 2024 information is also updated.
The Kings News corner
Here, you will read the latest news regarding the roaring Karachi Kings.
Kings official jersey revealed
10 February 2023
The team's official jersey for the eighth coming season of the Pakistan Super League has been released by Karachi Kings. Mr Salman Iqbal, President and CEO of ARY Digital Network, revealed Karachi Kings' new PSL season 8 uniform on his Twitter profile on Wednesday. The blue-and-red shirt bears the Karachi Kings emblem on the upper right and the characteristic 'Roaring Lion' on the lower right.
Shoaib Malik was wearing the new Karachi Kings kit. This kit has red colour dominant in it. While the previous seasons had more of a blue colour in them. But the kings have changed the colour ratio this time.
Keep in mind that the Karachi kings took the help of fans to design this jersey.
Imad Wasim is confident about HBL PSL 9
8 February 2024
Imad Wasim, captain of the Karachi Kings, has voiced his delight for the forthcoming Pakistan Super League (PSL) season. Imad appreciates Babar Azam's skills and states that he has no qualms over losing the captaincy in the past. He is keen to show improved performance as a group in a candid discussion with Pakistan Cricket Youtube Channel.
It should be mentioned that under Babar Azam's leadership, Karachi Kings won just one of its 10 games and failed to make the playoffs in the prior season of the HBL PSL. Karachi Kings won the sixth season of the PSL under Imad Wasim's guidance but was replaced by Babar Azam, although winning the title for Karachi.
Kings to begin their training.
Preparing ahead of a big tournament like the PSL is essential. And this year's hype is off the charts. The Kings have to buckle up because last year wasn't promising for them. Hence, they will start their practice sessions on 9 February 2023.
Their first game is against Peshawar Zalmi on 14 February 2023. Well, they have to start their romance by winning the games because last year, well, how to put it, it wasn't very good.
Losing so many games was pretty pathetic if you look at a team like Karachi. They have been one of the biggest teams in PSL. And, having such a massive fanbase as Karachi, it wasn't very pleasant to see them lose this way. No one wants to see a team like this.
Will Imad Wasim pull the team out of the depths of despair? Oh, stop kidding yourself, it is a team game. That is why all the team will start practice sessions starting on 9 February. Let's see if this hard work pays off.
FREQUENTLY ASKED QUESTIONS
Who is in the Karachi Kings team?
Many exciting players like Malik, Muhammad Amir, and Imad Wasim are playing for this team. We have mentioned every player in detail in the blog above. Please read the player's list section for a clearer answer to this question.
Who is Karachi Kings captain 2024?
Imad Wasim is going to lead the side for PSL 2024
Is PSL making money?
PSL was not making money in the first few seasons. But the franchise owners reported profits since PSL.
Have Karachi Kings won any season of PSL?
Yes, they have won it before. But only once.
We Also Updated Peshawar Zalmi Squad here.