Quetta Gladiators Squad 2024 [PSL 9 UPDATED]
Another dangerous team of PSL 9, Quetta Gladiators Squad 2024 is a Twenty 20 franchise cricket team that competes in the Pakistan Super League. The team is based in Quetta and its Provenience capital is Baluchistan.
The PSL 2024 Schedule is also announced. PSL live Streaming is available on our website.
Player
Category
Role
Muhammad Nawaz
Platinum
Allrounder
Naseem Shah
Bowler
Vanindu Hasaranga
Allrounder
Jason Roy
Diamond
Batsman
Iftikhar Ahmad
Batsman
Odean Smith
Allrounder
Ahsan Ali
Gold
Bowler
Sarfaraz Ahmad
WicketKeeper
Muhammad Hasnain
Bowler
Will Smead
Silver
Batsman
Umar Akmal
batsman
Naveen Ul Haq
Bowler
Umaid Asif
Bowler
Muhammad Asif
Batsman
Aimal Khan
Emerging
Batsman
Abdul Wahid Bangalzai
Batsman
Omair Bin Yousuf
Supplementary
Batsman
Martin Guptil
Batsman
Replacement Draft for the Gladiators
The following table is the summary of the replacement draft. Let's see how the Gladiator management used this.
Replacements
Player
Non-availability status
Replacement
Naveen ul Haq
Partial
Nuwan Thushara
Vanindu Hasaranga
Partial
Reserved
Odean Smith
Partial
Dwaine Pretorius
Jason Roy
Partial
Will Jacks
Supplementary picks
Name
Nationality
Role
Saud Shakeel
Pakistani
Batsman
Qais Ahmad
Legspinner
All Teams Squad
UPDATED:- Karachi Kings Squad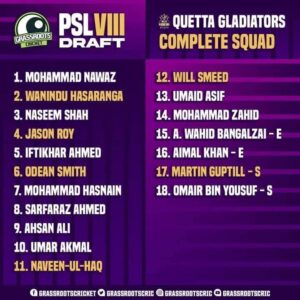 | | |
| --- | --- |
| Captain | Sarfaraz Ahmad |
| Team | Quetta Gladiators |
| Owner | Nadeem Omer |
| Winning Prediction | 75% |
| Brand Ambassador | Sarfaraz Ahmad |
This team was established in 2015 and its home ground is Bugti Stadium in Quetta. So, here is Quetta Gladiators Squad with players' performance discussed here, read this post till the end.
Quetta Gladiators got services one of the most respected full responsibilities in the cricket board whereas Sir Vivan Richards's presence is most useful in the Quetta gladiators.
Check:- Asia Cup 2023 Pakistan Squad
PSL 8 Quetta Gladiators Squad
Yes, we are describing all of you Quetta gladiators players with the performance one by one, either national or international players. Many QG fans searching & wanna knowing about the Quetta Gladiator Squad 2023 with their favorite player, So, here we will discuss the complete squad of Quetta Gladiators for PSL 8.
Quetta Gladiators Batsman Squad
Quetta Gladiators Bowlers Squad
Quetta Gladiators All-Rounders Squad
OWNER OF QUETTA GLADIATORS
The owner of Quetta Gladiators is Nadeem Omer, who owns Omer Associates.
Now we will discuss team players of Quetta gladiators. PSL Team Islamabad United. We are updating information in real-time. We also updated Multan Sultan Squad.
COACH OF QUETTA GLADIATORS
The coach of Quetta gladiators is Moin Khan, whereas Viv Richards is the batting and team mentor coach, and Azam Khan is the team manager. Abdul Razzaq is also the team assistant coach. Also, you look at PSL 8 Peshawar Zalmi.
Check:- PSL Tickets Price
CAPTAIN

Sarfraz Ahmad is the Captain of Quetta Gladiators because in every PSL session, QG leading by him. He is a good batsman with the best wicketkeeper.
As a player, I cannot emphasize hard enough how much of an impactful a player he has been. He didn't have quite a great start in the international circuit. But, he has risen to prominence with his performance in 2014. Due to his quick runs, Pakistan won the Sharjah Test 2014 and chased 302 runs in just 57.3 overs. During the following 18 months, he averaged 71.20 and jabbed his place into the ODI squad halfway through the 2015 World Cup tournament with 49 runs at a strike rate of 100 against South Africa.
He also proved himself in captaincy, winning the Champions trophy in 2017. He was the first after the great Imran Khan to win an ICC title.
Although he is going through a hard patch in his career, his comeback in the test series against New Zealand can prove to be a charm for his career.
All the related news
In this section, you will read all the news related to Quetta gladiators regarding season 8.
Jason Roy feels hopeful for PSL 9
10 February 2024
England's lethal hitter Jason Roy has stated that his team, Quetta Gladiators, aspires to win the eighth season of the Pakistan Super League (PSL). In a video posted by the Gladiators on their Twitter page, Jason remarked that he was excited to join the Purple Force and that he aimed to win the championship this year. He said:
"I'm really eager to join the Purple Force. We've been playing some fantastic cricket in our warm-up match, and I'm looking forward to getting over there. We've assembled an excellent team. I'm looking forward to starting the batting alongside Martin Guptill. Hasaranga is one of our members. Of course, we must not overlook our homegrown talent. We have an excellent squad, coaches, and backroom staff. Let's hoping this is our year and we can take home the championship. Guys, I'll see you shortly. Cheers"
It's worth noting that, although entering the Gladiators late in the campaign last year, Roy was the eighth-highest run scorer in PSL, accumulating 303 runs with an average of 50.5 in six games.
The skipper talks about PSL
3 February 2024
Sarfaraz Ahmed, an ex-Pakistan skipper, has described the importance of the Pakistan Super League (PSL) in developing the nation's cricket. Sarfaraz stated on the show that the competition has proven to be a forum for discovering the country's potential.
The Quetta Gladiators skipper said that the PSL had taught rising talent how to cope with the spotlight and public attention, which is essential in international cricket.
According to the wicket-keeper batsman, the tournament has now evolved into a trademark, drawing many known cricketers worldwide, and everybody watches those sportsmen.
Sarfaraz went on to remark that it was during the PSL that these individuals proved their abilities and won positions on the squad.
Exhibition match on the home ground
1 February 2024
Quetta is set to play a friendly match against the Zalmis on their home ground on 5 February 2024. This is exciting news because previously, the PCB chairman said that they could not add Bugti Stadium as a venue for PSL 8. But they have announced an exhibition match against Peshawar Zalmi on an earlier date. This is pretty great. Not only will we see our megastars like Sarfaraz and Babar, but we will also get to see Wahab Riaz and Boom-Boom Afridi playing in Quetta's Bugti Stadium. You can buy a ticket for 20 PKR and enjoy the match starting at 8:00 pm.
So what are you waiting for? Grab your tickets now at any of the following outlets.
| | |
| --- | --- |
| Serial No. | Place |
| 1 | Bolan Cricket Stadium |
| 2 | Bugti Stadium |
| 3 | Jan Mall |
| 4 | Mariabad (Gulzari Travels) |
| 5 | Airport Road (Almehmood Mart) |
Houston Hurricanes vs Quetta Gladiators
In an event, the Quetta Gladiators & Houston Hurricanes agreed to play several games in Pakistan and the United States. The occasion was attended by Mr. Tanweer Ahmed, proprietor of the Houston Hurricanes, and Honorable Consul General US William K Makaneole. Distinguished keynote speaker CG US William K Makaneole shared his thoughts on the Gladiators and Hurricanes cricket exchange trip.
This means that your favorite team Quetta Gladiators will play against Houston Hurricanes in the US. It is good news for US cricket fans as it will allow them to see players in action live. This is something that they rarely see in the USA.
The chief guest mentioned sports diplomacy, stating that this is an excellent opportunity to build on the relationship that Pakistan and USA already have and strengthen it using sports. And what better sport than cricket to win over Pakistanis? So get ready, guys. Your favorite players from both teams will be in action in America soon enough.
Nawaz and Naseem are warming up for PSL
It is always fun to watch your players performing in the international circuit. Nawaz and Naseem are doing it on the New Zealand tour. Their good form indicates that the Gladiators will enter the tournament with a winning mindset.
Quetta Gladiators didn't have a great tournament last year. They struggled a lot and ended up in the second-last spot in PSL 9. They won only 4 games in their campaign, which was an eyesore for Gladiator fans.
But it seems like that is going to change this year. The skipper, Sarfaraz Ahmad, is performing in the domestic tournaments. His performance in the domestic T20 tournament almost got him a spot in the national team. He has had a remarkable comeback in the Test series against New Zealand.
Similarly, Nawaz and Naseem are performing in the international series. Nawaz took 4 wickets for just 38 runs at the economy rate of 3.8, while Naseem Shah made the record for getting the most wickets in ODIs after 5 matches. He took 18 wickets to make this record.
These things are good for Quetta. They are going to rock this year.
RELATED:- PSL COMMENTATORS
We Hope, this Post "Quetta Gladiators Squad" will be very helpful and informative for PSL lovers & especially for QG fans, so if you like this article then share it with your friends. Information is updated in real-time.
Join the PSL WhatsApp Group to get the latest updates.
FREQUENTLY ASKED QUESTIONS
Who is Quetta Gladiator's captain?
Sarfaraz Ahmad is going to be the caption in PSL 2024. He has been the captain of this side for a long time and knows the team combinations and management. Hence, he is the best choice.
How do you qualify for Quetta Gladiators?
Players are selected for the team through a draft. Draft happens before each season of PSL
How many PSL Quetta Gladiators won?
So far, QG hasn't won a single PSL season. They have been to finals multiple times but they couldn't manage to win the tournament.
Who is the owner of Quetta gladiators?
Nadeem Omer, who is the owner of Omar Associates, is the owner of this franchise. He has been sponsoring cricket and cricketers for a long time. Sarfaraz Ahmad, Anwar Ali, and Bilawal Bhatti are some of the oldest players under his wing.
How much is Quetta Gladiator worth?
The gladiators are worth 11 Million bucks.
Who is the mentor of Quetta Gladiators?
The great Sir Viv Richards has been mentoring the gladiators since season 1.
All Information is updated. We also Updated Lahore Qalandars 2024 Team Players and Peshawar Zalmi 2024 Squad. Could you keep visiting our website?