Kolkata Knight Riders Squad 2024
In this post, I wanna tell you about the other most popular team that's will be Kolkata Knights Riders, so many IPA lovers want to know whether any change will occur in the Kolkata Knight Riders squad 2024 or not. Do you need to know then read the below article till the end? 1st, You know how many teams are in IPL 17. You must download IPL Schedule 2024; this way, you will be updated.
The Asia Cup Schedule 2023 is also updated here. You can also enjoy India Vs Pakistan 2023 Live Streaming Online for Free.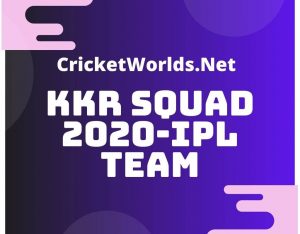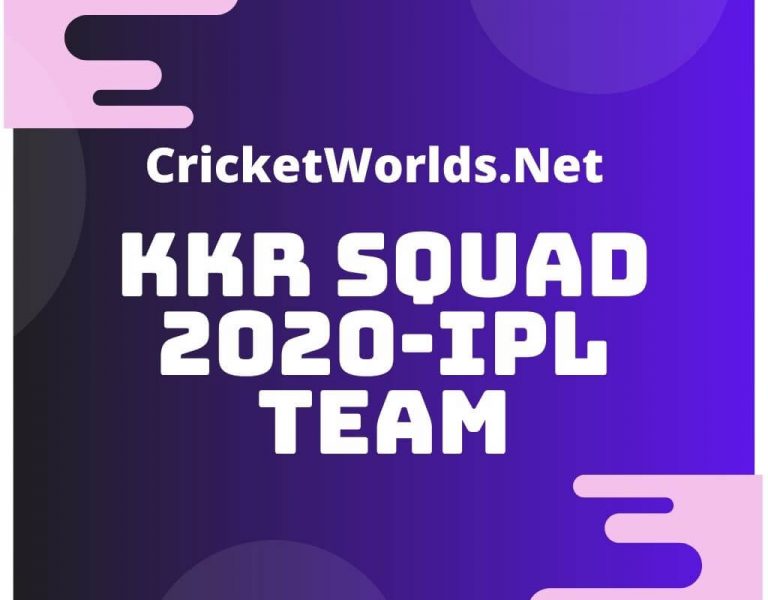 | | |
| --- | --- |
| Team | Kolkata Knight Riders |
| Captain | Shreyas Iyer |
| Coach | Brendon McCullum |
| Owner | Knight Riders Sports Private Ltd |
| Home Ground | Eden Gardens Kolkata |
| IPL wins | 2 |
KOLKATA KNIGHT RIDERS
As Cricket is a spirit, so many players played this spirit and won for our country, team, and for ourselves. So because of this spirit, the KKR Team has won 2 times IPL leagues, 1st in 2012 & the other in 2014 & KKR Team played from the first session of the Indian Primer League.
Related:- IPL Live Streaming
SQUAD
In this section, I will provide you with a complete players list of the Kolkata Knight Riders Team with Names; some new players will be added for this IPL 2023 session, which will be the 16th edition. The Kolkata knight riders' roster is followed in detail.
KKR squad for 2023 IPL
Name
Nationality
Role
Shreyas Iyer
Indian
Batsman
Rinku Singh
Indian
Batsman
Rahmanullah Gurbaz
Afghani
Wicketkeeper Batsman
David Wiese
Namibian
Allrounder
Kulwant Khejroliya
Indian
Pacer
Suyash Sharma
Indian
Legbreak bowler
Nitish Rana
Indian
Batsman
Anukul Roy
Indian
Allrounder
Lockie Ferguson
New Zealand
Pacer
Andre Russell
West Indies
Allrounder
Venkatesh Iyer
Indian
Allrounder
Umesh Yadav
Indian
Pacer
Harshit Rana
Indian
Pacer
Tim Southee
New Zealand
Pacer
Shardul Thakur
Indian
Pacer
Sunil Narine
West Indies
Offspinner
Vaibhav Arora
Indian
Pacer
Varun Chakravarthy
Indian
Legbreak bowler
Narayan Jagadeesan
Indian
Batsman
Litton Das
Bangladeshi
Wicketkeeper Batsman
Mandeep Singh
Indian
Allrounder
Shakib Al Hasan
Bangladeshi
Allrounder
In the above kkr players list and kkr squad contains three categories of players and these categories mention that showing player category.
KKR Bowlers
KKR Batsman
KKR Allrounders
Who can be the X-factor for KKR?
The team looks pretty solid if you ask me. But what player or players will prove to be the x-factor in the team? We do not have to look too hard for it. It is right there. The team is filled with those players. I mean, where do I start, guys? We will discuss the captain later as he needs to be introduced separately.
Litton das, the Bangladeshi Captain, can provide a good start for KKR, while his fellow team member Shakib can make some quick runs while controlling the enemy with his tight bowling.
Gurbaz, the firey Afghan blood, can pump out some fast runs when we need them. But we also have David Wiese, the All-rounder with experience playing leagues worldwide. He Brings a lot of calmness to the squad.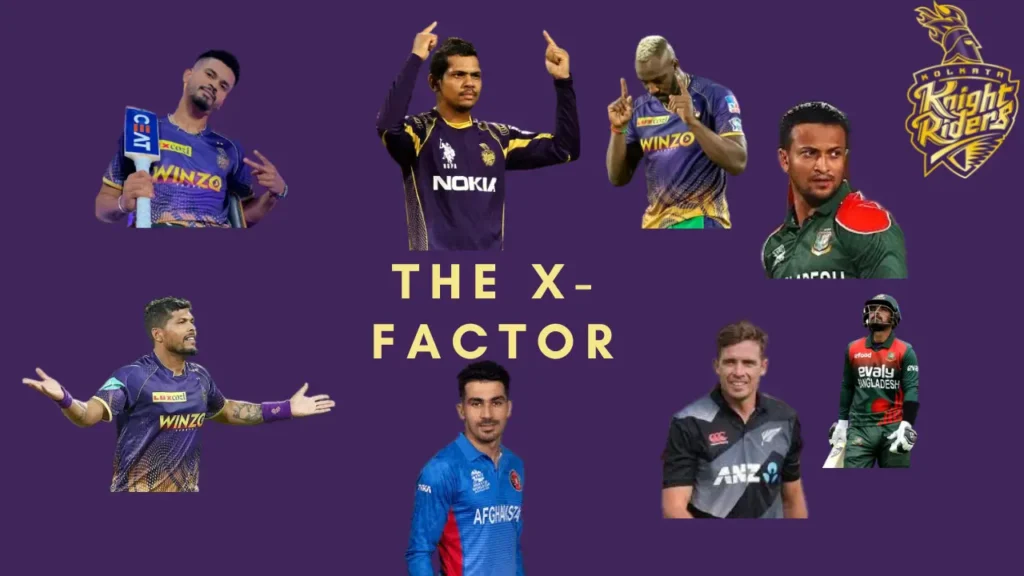 And what words do I have for Andre and Umesh? While Andre can be a giant with the bat and the ball, Umesh Yadav can click that 150-kph mark like it is nothing. Just imagine facing him and Russel at the same time!
Tim Southee can swing the new ball and make it dance like a Bollywood song is on! Maybe he will make it move on the beats from SRK's new movie.
Talking about making the ball dance, how can we forget Sunil Naraine? Do you want to know who the x-factor in the team is? For years I have come up with only one answer: Sunil Naraine. How can we forget when he used to rule the bowling rankings along with Badree? Sunil doesn't only make the ball dance. He makes it move like it's doing the "Nagin dance." You have to plan how to play him if you face Naraine. Otherwise, this dude has bowled maiden super-overs. YEAH!
According to the latest Update PSL Live Streaming 2023 India will be free. You can also download the Asia cup schedule pdf.
Kolkata Knight Rider CAPTAIN
Shreyas Iyar is the captain of the Kolkata Knight Riders. He was bought in the 2023 auction by KKR for a whopping 12.5 Crores INR. He is a very aggressive top-order batsman with impressive stats. He averages 32 with a strike rate of 130, something you always want in a T20 player. But aggressive batting isn't the only thing you get from him. He plays with such elegance that it is a treat to watch.
But does that give him the warrant to lead the team? Let's talk about that.
So far, he has captained 55 matches, keeping a win percentage of 50 percent. Having time in his favor, Iyer's dependability with the batting and ability to maintain a calm demeanor while rescuing the team from dangerous circumstances fulfills most of the requirements for the 28-year-old to develop into a successful skipper.
He got a chance to lead Delhi when Gautam Gambhir retired midway through the tournament due to poor performances. And the dude didn't disappoint. His captaincy was decent because he got a team midway through a tournament. He led Delhi for the first match against the KKR, leading the side to a crushing 55-run victory.
Ironically, he is the captain of KKR now. Is he the answer to all the problems this franchise is having? Well, we gotta see the IPL 16 to find that out.
COACH
As this was big news that the previous coach of Kolkata knight Riders has been removed, a new coach will be making for the KKR team in 2023; his name is the most popular cricket player in history, Brendon McCullum.
Brendon McCullum, aggressive, brutal, and magnificent to see, could damage bowling assaults like no other player in international cricket. McCullum, a wicketkeeper-batter, was utilized across New Zealand's batting lineup, but it wasn't easy to turn aside when he appeared at the wicket. As a player, there is no doubt that Baz is a superstar with a legacy behind him. But how is his coaching career turning out to be?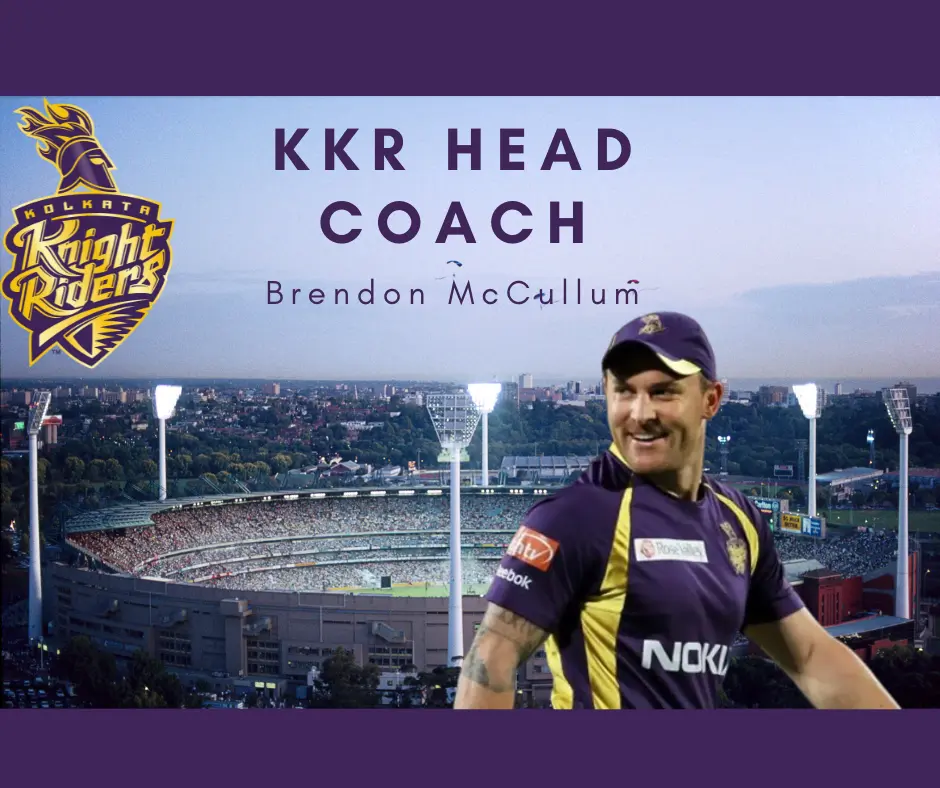 Baz as a coach
In August 2019, he was named head coach of the Trinbago Knight Riders (TKR) and the Kolkata Knight Riders (KKR). Trinbago Knight Riders earned their fourth CPL trophy during his guidance in 2020.
He was named ECB Test match head coach on May 12, 2022. His debut job was a three-match home series versus his native New Zealand. England clean sweep the Kiwis with a 7-wicket triumph in the third Test at Headingley, which speaks much about his coaching abilities.
After that, England defeated India at Edgbaston, chasing down a personal best 378 for only 3 wickets. For England's winter 2022 trip to Pakistan, he led the team to the first-ever sweep of Pakistan in Pakistan.
I guess his excellence as a coach speaks for itself. No doubt, KKR has a strong chance this year under his coaching.
IPL Teams
Match schedule
KKR Vs RCB
KKR Vs MI
DC Vs KKR
KKR Vs CSK
SRH Vs KKR
KKR Vs KIXP
RR Vs KKR