PSL Teams T Shirts [ PSL 2024 Teams Kit Updated]
People are pathetically crazy about their favorite players and even crazier about Cricket. Many people are excited that a new season is coming up. It's exciting to see what clothes players will be wearing this year.
We are updating the latest information.
It is a wonderful development that the Pakistan Super League has evolved into a global cricket festival, one of the world's finest cricket competitions. New edition group T-shirts were displayed with themes based on cricket legends, selling brands, and representing major Pakistani provinces.
RELATED:- PSL 9 TICKETS
PSL Teams T-Shirts
These kits are attractive and stunning, and players also prefer PSL 9 team t-shirts on the ground. This article will show you the amazingly beautiful PSL kits for all teams Lahore Qalandars, Karachi Kings, Islamabad United, Peshawar Zalmi 2024, Quetta Gladiators, and Multan sultans 2024.
People want to feel a connection with the team they root for. It is the strength and spirit they want to feel when they wear it. They want to show their attitude and desire to go on and support their favorite team with full power.
PSL Official Teams Kits
As a cricket fan, I have been looking at purchasing PSL 8 t-shirts for my home team. The pleasure runs through my veins, and then I remember which team I support out of all those playing in this league.
When we look at t-shirts with the logo of our favorite team, we feel a certain closeness and affiliation with it, which is inextricable from ourselves. A team shirt can make us happy, engaged, and proud on a new level beyond the game itself.
Here are the Kits for all 6 teams in the PSL. We Also Updated Islamabad United Squad 2024.

1. Multan Sultan Kit ( MS T-Shirt )
In September 2017, the logo and kit of the team were unveiled. Waqar Ehsan sang the team's anthem for the 2018 season, "Hum Hain Multan kay Sultans." The primary colors for the team's kit are blue and green.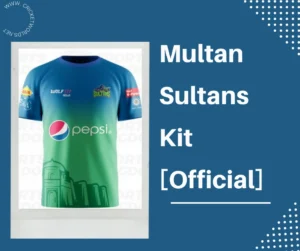 Sponsors
Lake City, Fatima group, Mughal Steel, Inverex, and Super Asia were the team's main sponsors in 2018. In 2019, Pepsi was the primary sponsor; the other sponsors were "Afsaneh," OLX, Asia Ghee Mills F.C.
In 2020, Pepsi was the primary sponsor; the other sponsors were Fatima group, Kurkure, Asia Ghee, and Shell V-Power. The main sponsors in were Fatima group, Pepsi, Asia Ghee, GFC fans, and snack video.
Shell V-Power, Fatima group, Asia Ghee, Pepsi, and Nishan-e-Haider builders and developers sponsored the team.
2. Islamabad United Kit (IU T-Shirt )
The logo and name of the team were unveiled on 22 December 2015 at the Polo Club in Islamabad. An image of a lion appears on the logo.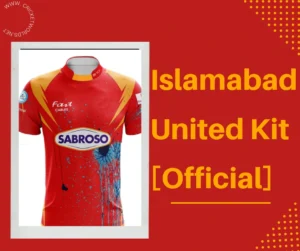 Sponsors
Sponsors in 2016 included Dostea as the primary shirt sponsor, Cinepax, and GLO as the main merchandise sponsor.
For the 2019 season, the franchise altered the design of its kit. Prior kits featured equal shades of red and gold. However, the new kit for PSL featured red as a prominent shade and golden as a secondary shade.
Team sponsors include WWF Pakistan. The team's official food partner is Mocca, with Dunya News and FM 101 being the team's news and entertainment partners, while PTV Sports serves as the team's media and branding partner.
Islamabad United has signed JS Bank as the title sponsor and Q Mobile as its main partner for its second season. Other partners include PTCL, Yayvo and Igloo, Gwadar Golf City, Bisconni, Dastak, Sabroso, Ufone, Fast Cables, and Jomo.pk, Snack Video, and DCODE.
3. Lahore Qalandars Kit (LQ T-Shirt )
Fawad Rana unveiled the logo and name of the team for the Lahore Qalandar franchise on 9 February 2024.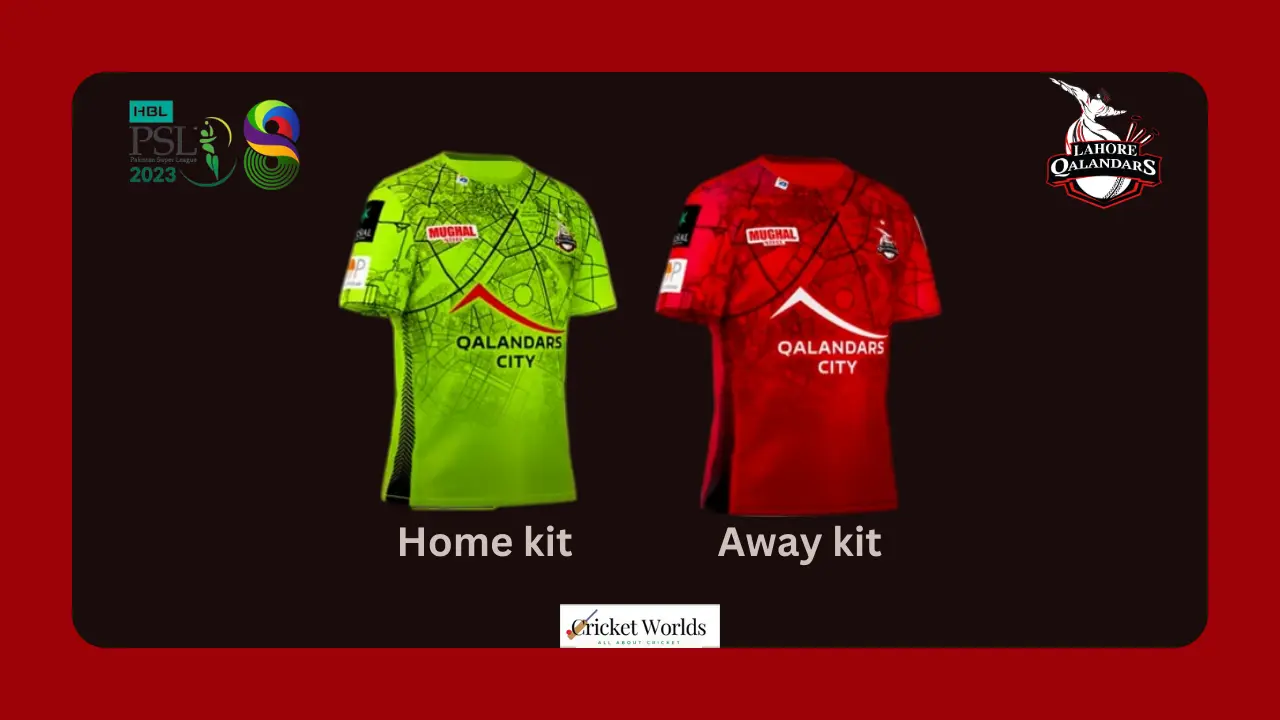 Sponsors
The official sponsor for Lahore Qalandars in season 9 is Melbat. The Qalandars announced this sponsorship deal in a press release on 8 February 2024. Melbat is also excited to partner with Lahore Qalandars. They are very much in awe of the team's deep roots in traditions and values. Melbat thinks that LQ has the ideology to make them successful this season. They are eager to help the team in any way, shape, or form.
4. Karachi Kings Kit ( KK T-Shirt )
On 21 December 2015, Karachi Kings 2024 team' name and logo were unveiled. The logo features a lion with the words below in white and gold. Blue and gold are the primary shirt colors for the team. AJ Sports manufacture the kit.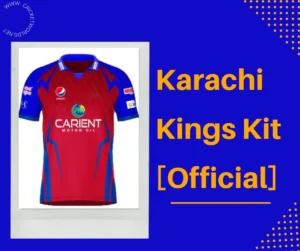 Sponsors
The team's title sponsor for the first three seasons was Bahria Town. Other sponsors included Summit Bank, The Arkadians, Oye Hoye, Pepsi, Brighto Paints, and Shield Corporation Ltd. Naya Nazimabad was their official main sponsor for the 2017 season.
Bridge Power was their platinum sponsor. In December 2016, Cotton & Cotton was appointed as their official apparel partner. Vital Tea was their tea partner. The print media partner was the Pakistan Observer, and Titans were their memorabilia partner.
Other Partners include ARY Laguna, Nurpur, Scene on, Surf Excel, Cadbury dairy Milk, Brighto Paints, Imtiaz Super Market, Bona Papa, Mughal Steel, Inverex, and Rooh Afza.
The Sales have finally updated their kit for PSL 2024. Peshawar Zalmi signed a partnership with gym armour wear and designed some new shirts and gym wear for the players. Javed Afridi himself announced it on his social media. This time, they announced three shirts.
Two shirts will be for playing and one for the practice sessions. While one playing shirt is in the usual colour scheme, Zalmi fans may be able to see the players in another colour scheme. The alternate shirt has a black and yellow colour scheme, as usual, but the ratio is inverse. The practice shirt is a beautiful black and red pattern. Fans can also pre-order the merchandise.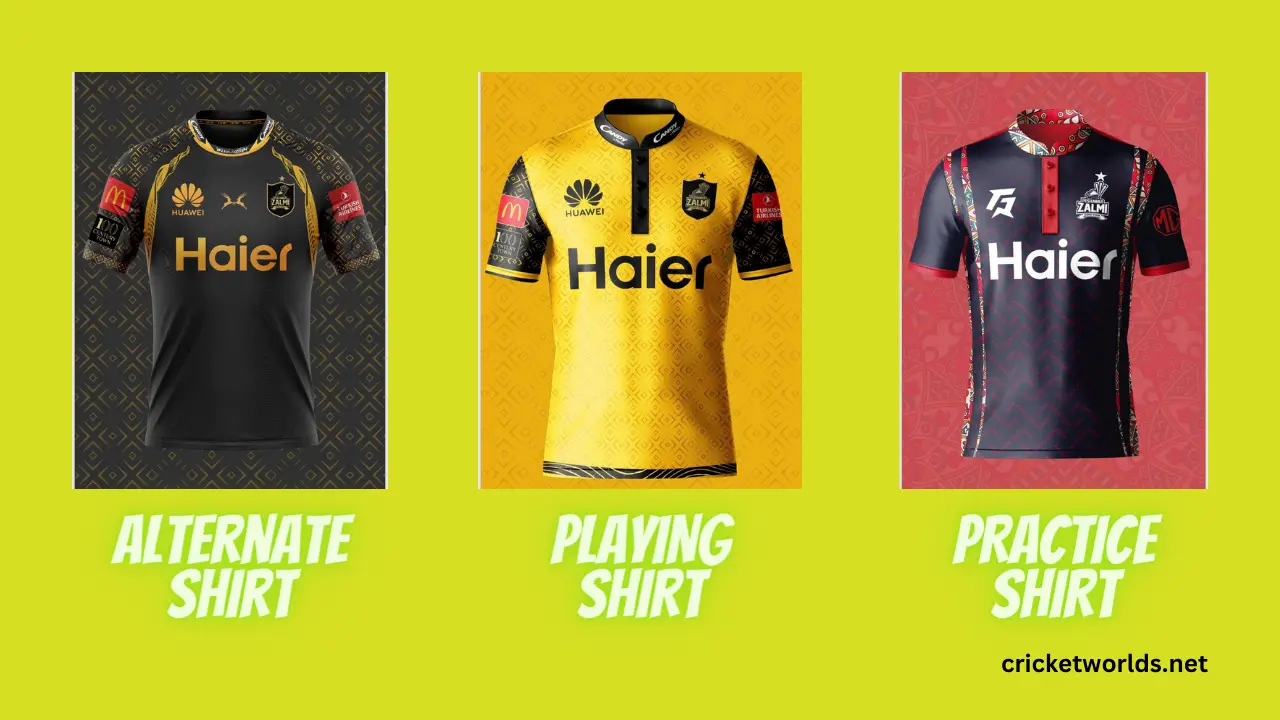 You can also pre-order Peshawar Zalmi Merchandise in the following price range
Official Peshawar Zalmi Replica kit PSL 9

Merchandise
Price
Alternate trouser
2000
Playing trouser
2000
practice trouser
2000
Alternate shirt
2500
Playing shirt
2500
Practice shirt
2500
Match Day Alternate Trouser
6499
Match Day Playing Trouser
6499
Match Day Practice trousers
6499
Matchday Alternate shirt
7999
Matchday playing shirt
7999
Matchday practice shirt
7999
Check:- PSL 9 Schedule 2024 timetable
Sponsors
In addition to Haier, TCL, Sprite, McDonald's, JW Forland, Ruba Digital, and Storm Fiber, Peshawar Zalmi's media partners include Urdu News, HUM Network, Dawn News, AVT Khyber News, FM 91, and Daily Pakistan.
Other partners include Bahria Town, Giggly Boom Boom Bubblegum, Brighto Paints, Hum TV, J., Zic Motor Oil, General Petroleum, Jivi Mobiles, Super Power Motorcycles, Jang, Khaleej Times,
RD, MG, Zamoong, Zalmi TV, Huawei, Airlink, Oppo, Malam Jabba ski resort, and Turkish Airlines.
The team name and official logo were revealed in a ceremony held by team owner Nadeem Omar on 6 January 2016. Purple and gold are the primary colors of the team's kit.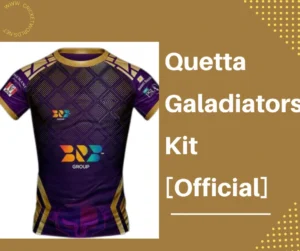 Sponsors
During the 2016 season, Edenrobe and ACM Gold were the team's title sponsors and official partners. Jubilee Insurance was the primary sponsor of Quetta's second season.
The team was sponsored by Master Oil, Chocka, and KHL. Media partners included PTV Sports and Suno FM 89.4, and Tapmad was the team's official streaming partner.
Other partners include Engro, BRB group, Omar Associate, Master Oil, and PTV Sports.
Olpers, KFC, Ignite, Lotte Choco Pie, Soneri Bank, Berocca, and Hemani.
The PSL 9 live Streaming will also be available here. here on our website, you can also check PSL 9 Points table.
There are many other exciting updates, news, and posts available on this site. Please take a moment to visit this platform.
where we cover the latest updates regarding the PSL and the points table. It would be appreciated if you would share this post with your friends and colleagues who are cricket fans, especially those who are passionate about the PSL.