Alex hales prefers PSL over England tour to Bangladesh
Alex Hales will play PSL instead of playing for England in their upcoming tour to Bangladesh for ODI and T20 series. Many people might say that it is absurd that players prefer playing for franchises instead of representing their national sides. These talks have been common since the days IPL became a big brand. It was just a matter of time before we heard these things about PSL, considering that it has become such a big brand.
So, Hales is playing for Islamabad United instead of for England against Bangladesh. Let's discuss why he did that and how the schedules were crashing.
Alex hales prefers PSL over England tour to Bangladesh.
While his teammates Harry Brook and Adil Rashid opted to miss PSL entirely for the series against Bangladesh, Hales has decided to play for Islamabad United instead. The tour to Bangladesh is set to happen from 1 March to 14 March 2023. While PSL matches are from 13 February 2023 to 19 March 2023. The schedules are clashing. It is entirely up to players what they want to do in such a situation. And Alex Hales has decided to honor his PSL contract instead.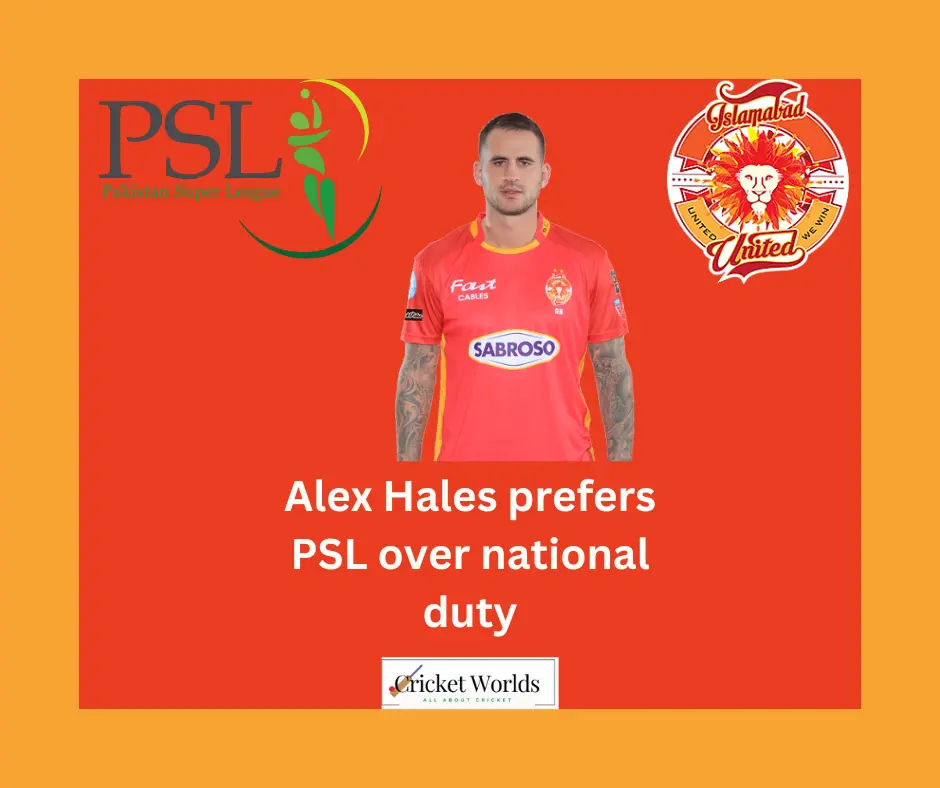 England has no problem with this decision. They have allowed their players to choose whatever they feel is best for them. That is why Hales can play for Islamabad United without any worries. But why did he make this decision? Let's talk about that.
Why did he make this decision?
It is a matter of money. Alex is making way more money than he would have if he played for Bangladesh. Alex is a platinum-category player, which means he is getting at least 130000 dollars from Islamabad United. If he decides to play for his national side instead, he would lose a considerable amount of money as he wouldn't get anything near this amount from his national side.
And England also understands this situation. They are completely okay with it because the world cricket has understood that franchises pay way more, which is good for the player.
And Hales is also happy about his decision. Keeping the financial matters aside, Alex said on Islamabad United's Twitter that the team is like a family to him, and he is excited to come to Pakistan and represent his team. Hales is excited about playing in front of the home crowd.
He mentioned how the "free brand" of cricket makes him happy, and he plays for Islamabad. Hales recalled when, during the 2022 PSL, ISLU stood beside him during his tough times and supported his decision to only play during the playoff stage. That is why he feels a sense of kinship with the team and wants to enjoy cricket with them.
Conclusion
Alex Hales is available for Islamabad United for the entire PSL season 8. Although this year's PSL campaign clashes with England's tour to Bangladesh, he prefers to play for ISLU. He is excited about playing for the team as he likes the environment in the ISLU dugout. The free brand of cricket is what he enjoys about the PSL. He remembers the time when his franchise supported him during his tough time. Thus, he wants to come back and play PSL.