Quetta won the exhibition match! – IFTI MANIA strikes again
Quetta won the exhibition match against Peshawar Zalmi. The match was played on the Bugti International Stadium pitch. Gladiators won this match on their home ground. The fans were excited as the match took an exciting turn in favour of Quetta Gladiators. Ifti Mania strikes again. You will read all about this exciting match and more in this article. There is a lot to talk about in this match. So let's begin.
Quetta won the exhibition match! – Ifti Mania strikes again
Quetta Gladiators won this exhibition match. The match was played on their home ground, The Bugti international stadium, Quetta. They won started poorly, with early wickets falling, but oh boy, did Iftikhar Ahmad show us his magic. IftiMania strikes again. Iftikhar Ahmad showed an all-around performance and snatched that match away from the hands of Peshawar Zalmi. This was a much-needed win for the Gladiators as they played in their home ground for the first time.
The stadium was full of spectators. The whole stadium has a capacity of 20 thousand people. Every one of these spectators hoped their boys would win this match. And they did it.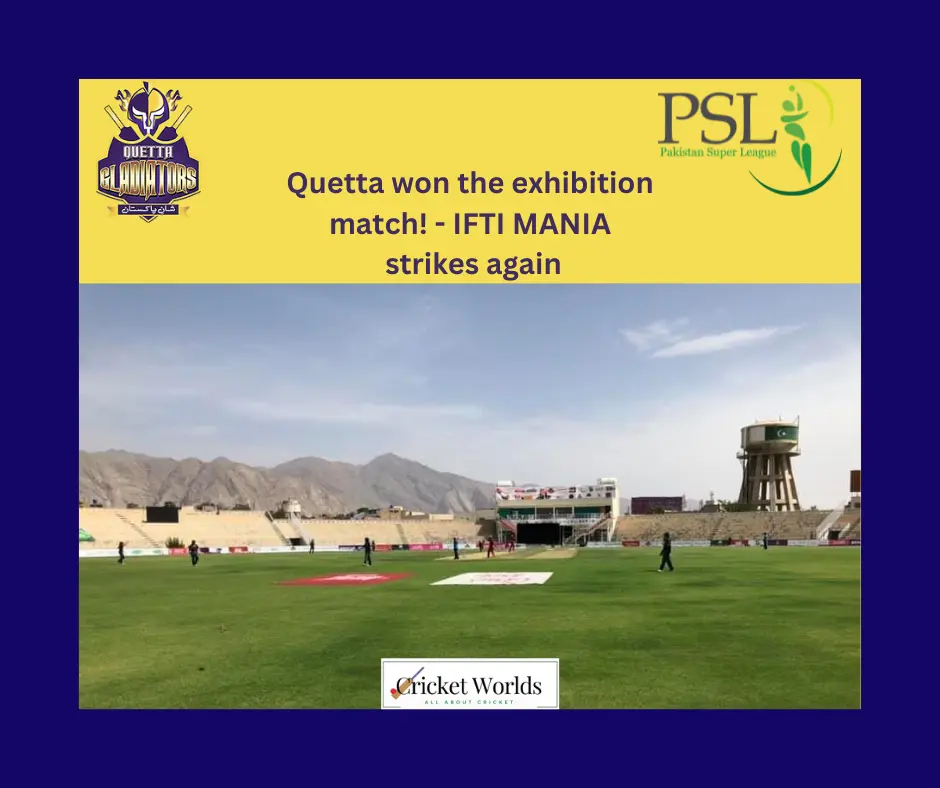 Among the mountains of Koh-e-Suleiman Range, this beautiful stadium was full of cricket lovers.
This match felt just like a PSL match. But never forget, it was Ifti Mania that won the show by hitting 36 runs in the last over. It is quite the feat in the presence of stars like Shahid Khan Afridi and Babar Azam. IFTI MANIA, guys, IFTI MANIA.
Match summary
Let's get to how the match went. Quetta Gladiators started with early wickets falling. They lost three wickets before scoring 50 runs. This shows you how strong the bowling was.
Wahab Riaz took 3 wickets but conceded 47 runs. Usama Mir was a breath of fresh air, only giving away 16 runs for 1 wicket. Aamer Yamin got 1 door for 41 runs. Quetta Gladiators was in a problematic situation until Iftikhar Ahmad scored 6 sixers in the last over. IFITI MANIA IS ON THE TOP. He scored 94 runs and took Quetta to 184 runs, giving PZ a target of 185.
From Peshawar Zalmi's side, they were looking pretty good. They scored 100 runs in the first 10 overs. The run rate was reasonable. They had wickets at hand. Shahid Afridi scored brisk 25 runs in 17 balls, while young opener Muhammad Haris scored 50 in 35 deliveries.
But the situation changed as Iftikhar Ahmad took two wickets (#IftiMania). Since then, Peshawar couldn't get out of this situation. Naseem Shah bowled the last over and defended the target successfully.
Man of the match – Post-Match Ceremony
Dr Abdul Rehman and Farina Khattak hosted this post-match ceremony. They started this ceremony with statements that Quetta is a peaceful region. They are peace lovers and sports enthusiasts and deserve cricket on their home grounds. The hosts also thanked the players who came to Quetta and preferred this match over their BPL contracts. The crowd chanted in their favour.
This match was played on 5 February, celebrated as Kashmir Day in Pakistan. Kashmir day is celebrated in solidarity with the people of illegally occupied Indian Kashmir. The hosts also mentioned this in the ceremony.
CM Balochistan was also present in this match. He urged PCB to hold PSL matches in Quetta. He said that the way they handled this match, PCB has no excuses not to conduct matches in Quetta.
IFTIKHAR AHMAD was named the Man of the Match. He scored 94 runs and also took two crucial wickets. Iftikhar got the award for his match achievement and 5 lac PKR from the CM Balochistan as prize money. He also earned 1 Lac from Nadeem omer as a prize for his performance.
Conclusion
This match completed its purpose. Quetta is a peaceful place, and the people of Quetta are peace lovers. No matter how many hardships they have faced, they are resilient and deserve PSL matches. All cricket lovers in Quetta want cricket back to Quetta. And PCB management should make that happen.