Najam Sethi Announces Pak Afghan T20 series
Are you prepared for a thrilling cricket series between Pakistan and Afghanistan? Najam Sethi, Chairman of the Pakistan Cricket Board, has announced a three-match T20 series between the two countries. Prepare for a spectacular battle between two skilled squads competing for glory. This series guarantees a must-see event, from the reparations for Afghanistan to the equitably split compensation. So, be ready to learn more about this fascinating cricketing event.
Najam Sethi Announces Pak Afghan T20 series.
Cricket fans in Pakistan and Afghanistan have a great deal to look forward to, as the Chairman of the Pakistan Cricket Board, Najam Sethi, has approved a three-match T20 tournament between the two countries. The T20 competition is set to begin at the end of March and offers an exciting match between two excellent cricket sides.
He tweeted the following:
"Pleased to announce PCB will play 3xT20s against Afghanistan in Sharjah end March to compensate Afghanistan following Australia's pullout from bi lateral series against it. I also supported ACC decision to grant Afghanistan equal share of ACC revenues like BCCI, PCB, SLC & BCB."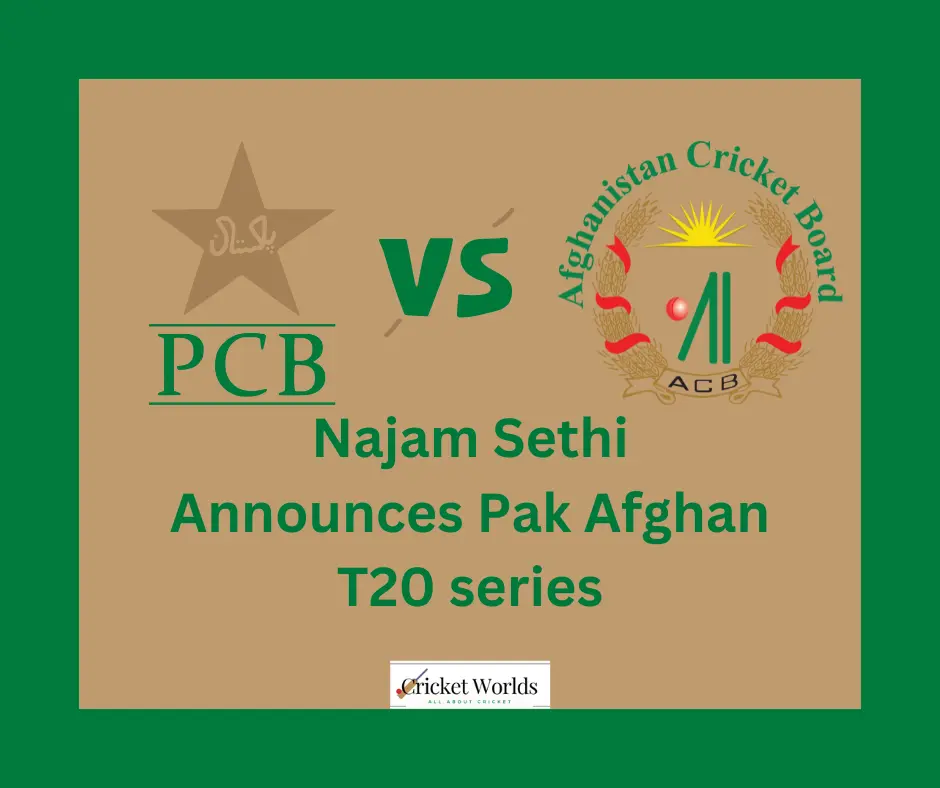 Compensation for Afghanistan
The T20 series compensates Afghanistan for damages incurred due to Cricket Australia's pullout from the ODI series versus Afghanistan. The ODI series was supposed to be played in the UAE. However, it had to be cancelled. In the latest comment, Najam Sethi stated that the T20I series was created to compensate for the loss and to provide a forum for the Afghan cricket team to exhibit their skills.
Supporting the Asian Cricket Council's Decision
Along with introducing the T20 series, Najam Sethi reaffirmed his backing for the Asian Cricket Council's decision to provide Afghanistan with an equal amount of ACC income as the remaining top four members. This is a crucial step for Afghan cricket's acknowledgement and growth prospects.
A Thrilling Encounter
The Pakistan-Afghanistan T20 series is an exciting match between two great cricket sides. Both sides have excellent skill sets, and the series will undoubtedly be a brutal struggle. Cricket fans should expect thrilling cricket play when the two sides square off.
Equally Shared Remuneration
In a media interview last month, Najam Sethi claimed that the PCB and ACB would split the proceeds from the T20 series 50-50. This demonstrates the two boards' strong cooperation and dedication to developing and supporting cricket in their respective regions.
Conclusion
Cricket fans are looking forward to the T20 series involving Pakistan and Afghanistan. The series is guaranteed to be exciting, with two quality teams playing face-to-face and a dedication to developing the sport. So, be ready for some thrilling cricket excitement in the following months!