Najam Sethi took stance against the injustice – ACC meeting results
Najam Sethi has taken a stance against the whole Asia Cup fiasco. The meeting between Jay Shah, the BCCI representative, and Najam Sethi, the PCB chairman, was scheduled for 4 February 2023. Well, the results of that meeting are as clear as day now. Social media had mixed reactions regarding this.
While some are in favor of what happened, a lot of people are against it as well. India and Pakistan may claim their victory, but who won here? We will discuss it all in this article. So stay with us to know the latest news and updates because it is all about cricket.
Najam Sethi took a stance against the injustice – ACC meeting results.
PCB chairman Najam Sethi has taken the same stance as the ex-chairman Ramiz Raja regarding this matter. Ramiz Raja clearly stated that if India refuses to play the Asia cup in Pakistan, then Pakistan will not play the cricket world cup set to be played in India. This was a solid reply from Ramiz Raja. If we talk about principles. If India doesn't come to Pakistan. Sure, Pakistan will not visit India for the cricket world cup 2023.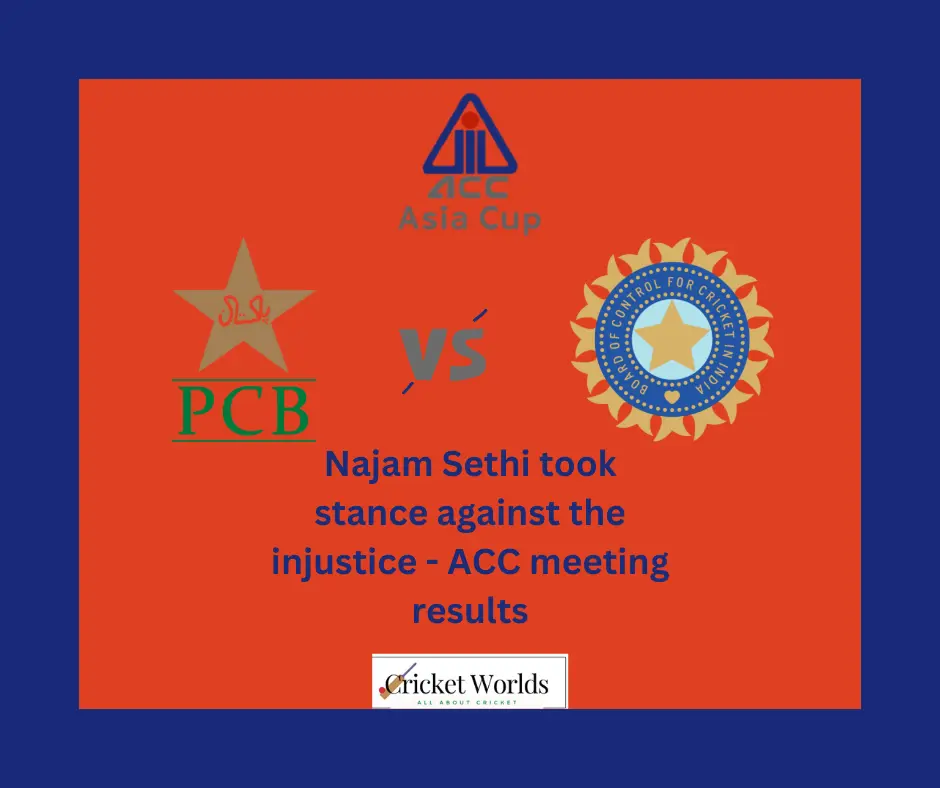 This controversy is not old. PCB and BCCI were throwing statements about this whole situation from the start. Because India and Pakistan and powerhouses in the world of cricket, it is a big deal if any one of the teams pulls out of such a big tournament. It is not good in terms of marketing. Hence, an emergency meeting was held in Bahrain.
In that meeting, ACC couldn't conclude this matter. They have made the decision pending till March. 
Jay Shah continued his stance that India won't visit Pakistan. While Sethi told Shah that Pakistan wouldn't come to India for the world cup either.
ACC Statement
ACC gave the following statement
"The ACC had a constructive dialogue on the upcoming Asia Cup 2023. The Board agreed to continue discussions on operations, timelines, and other specifics to ensure the tournament's success. An update on the matter will be taken on the next ACC Executive Board Meeting to be held in March 2023."
Because of the complexity of this matter, ACC didn't conclude and give a political statement. But what do fans say?
Reactions from fans
Pakistani and Indian fans are taking their sides. Pakistani viewers think this is unjust and bullying from BCCI, while Indians have mixed reactions. An Indian journalist Avinash Aryan tweeted:
"Babar Azam fans in Pakistan are likely to miss me and my reporting outside National Karachi Stadium in Asia cup 2023."
He said this with a crying emoji.
Abdul Ghaffar, a sports journalist from Pakistan, tweeted about ACC's press release:
"Seems like "Sab Khush Raho" Press Release"
Conclusion – Who won?
This is the loss of cricket here. No matter who won, cricket lost here. No cricket fan in their right mind would want any of these teams missing from a tournament. Like the Asia cup will suffer from this fiasco, the world cup will not go unscathed. BCCI and PCB should reach a common ground. Politics should not come between cricket matters.