Pakistan Squad for ICC World Cup 2023 [Announced]
Readers will get the updated Pakistan squad for the ICC World Cup 2023 here. Keep scrolling, and you will find the 15-man team in this article.
Pakistan Cricket Board Announced the Team Squad for ICC Men's World Cup 2023. The cricket world cup schedule 2023 PDF is also updated.
The ICC Cricket World Cup 2023 is one of the most awaited sporting events, and since the 2023 championship is quickly coming, fans are keen to discover more information about the teams and players competing.
Pakistan, especially, has aroused much attention due to its powerful roster of excellent players.
But before you look at the squad this year, here's Pakistan's performance in previous world cups.
World Cup
Performance
1975
Only won one match
Couldn't make it to the knockout stages
1979
Ended up 2nd in their group
Lost to West Indies in the Semi-Finals
1983
Ended up 2nd in the group stages.
Lost to West Indies in the Semi-finals by 8 wickets
1987
Ranked first in the group stages and only lost to West Indies
Lost to the Aussies in the Semi-final.
1992
Won their first-ever Cricket World Cup
1996
Ranked 2nd in the group stages.
Lost to India in the Quarter-final.
1999
Runner-up
2003
Only won 2 matches in the group stages.
Couldn't make it to the knockout stage
2007
Couldn't go past the group stage.
Lost to Ireland.
2011
Top rank in the group stages.
Lost to India in the semi-final
2015
Lost to Australia in the quarter-final
2019
Won 5 matches in the group stage.
Lost to New Zealand on the basis of NRR.
The ICC World Cup 2023 India Team Squad is also updated here.
Cricket World Cup 2023 Pakistan Team Players
So far, PCB announced its squad for the ICC Cricket World Cup. We have compiled a list of players the PCB focuses on this year. They will play in the Cricket World Cup in 2023.
| PLAYER | ROLE |
| --- | --- |
| Babar Azam | Batsman |
| Abdullah Shafique | Batsman |
| Fakhar Zaman | Batsman |
| Imam-ul-haq | Batsman |
| Iftikhar Ahmed | Batting Allrounder |
| Mohammad Rizwan | Wicketkeeper Batsman |
| Shadab Khan | Bowling Allrounder – Legspinner |
| Mohammad Nawaz | Bowling Allrounder – Slow left-arm Orthodox |
| Usama Mir | Legspinner |
| Haris Rauf | Fast bowler |
| M Wasim Jnr | Fast bowler |
| Hasan Ali | Fast bowler |
| Shaheen Afridi | Fast bowler |
| Saud Shakeel | Batsman |
| Salman Ali Agha | Batting allrounder – Offspinner |
| Mohammad Haris | Wicketkeeper Batsman – Reserve player |
| Abrar Ahmad | Finger spin – Reserve player |
| Zaman Khan | Fast bowler – Reserve player |
This blog is a must-read if you enjoy cricket and want to learn about Pakistan's World Cup team. It will give users the team's data, featuring player stats and insightful analysis. You'll also get a glimpse at the finite squad's tactics for the competition and what type of performance supporters may anticipate from them.
Moreover, understanding the team and its players will allow you to comprehend their strengths and weaknesses. This allows you to forecast how they will do during the competition.
Therefore, consider this post if you wish to stay updated and completely aware of Pakistan's World Cup team. It's a must-read for all cricket lovers and delivers an in-depth glimpse at one of the championship's most entertaining sides.
The Cricket World Cup 2023 India Team Squad was also added.
Analysis
Now, let's analyze this team. We will divide it into three sections so you can read it easily.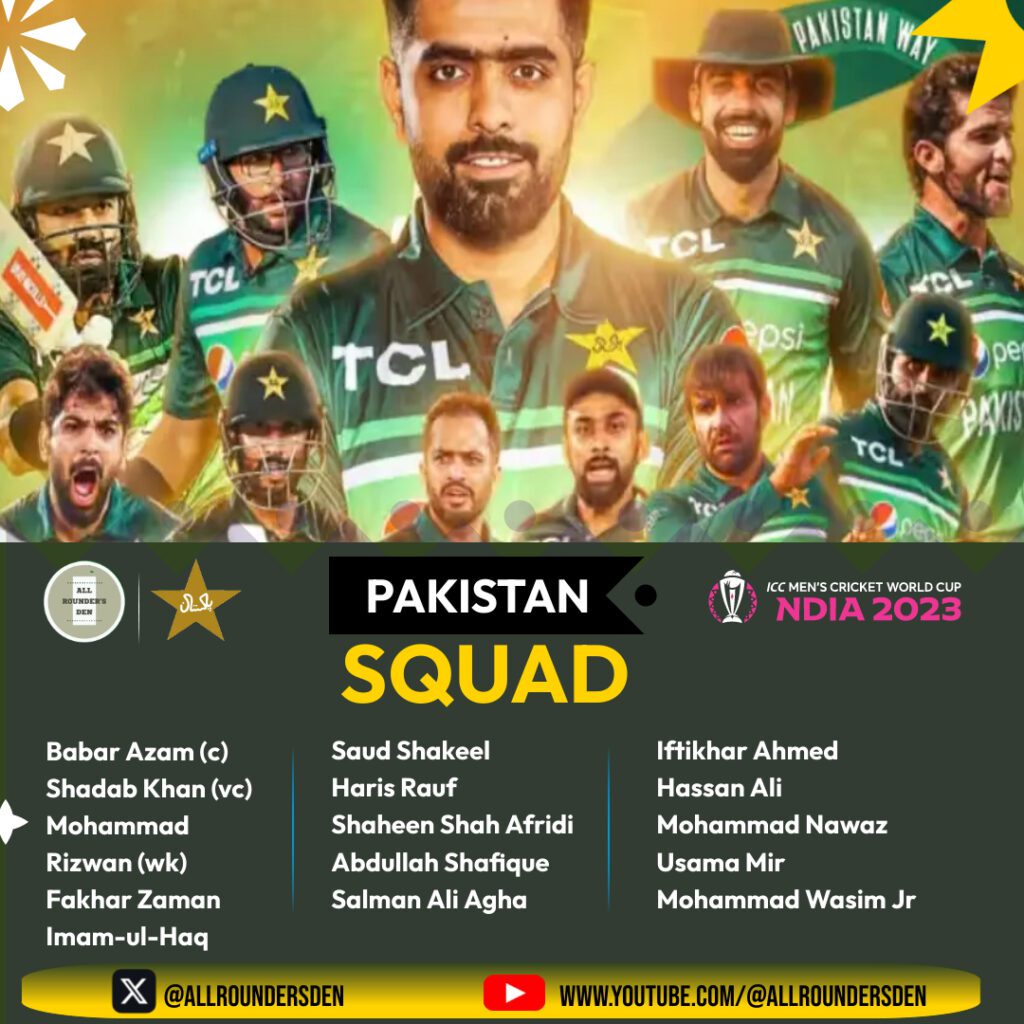 Batting line-up
Starting from the batsmen, Pakistan needs solid openers. And they have that in the shape of Babar Azam and Imam-ul-Haq. Now, Babar has been coming as a one-down batsman as well. But if he can provide a solid start along with Imam, this will be very good for the team.
Imam's stats also support what I am talking about right now. In ODIs, he averages 51 in 55 innings, with a strike rate of 82.81. If this isn't performance, then I do not know what is. If the management gives him enough chances, he can prove to be an answer for Pakistan's woes in the opening.
And to support the Imam's cool and calm opening, Pakistan can go for Fakhar. Isn't he the man of the big matches? He can provide some big shots and make quick runs in the powerplay. If he can do what he did against India in the champion's trophy finale, then Pakistan cricket fans will be very happy.
Babar doesn't need an introduction. What Pakistan is more worried about is its middle order. The collapse in the middle makes the fans' hearts skip a beat. To prevent this, batsmen like Abdullah, Salman, and Rizwan must step up.
There is Haris as well, who is performing well these days. Some competition for Rizwan, eh? But that is good if they take it as a healthy competition.
All-rounders
Shadab can provide a lot of strength in batting. His googly is unreadable, but if he can re-do what he did in the PSL, then Shaddy is the player to look for.
In addition, Nawaz has played some pretty great spells in New Zealand's tour to Pakistan.
He is not as dependable as Shadab in the batting, but his bowling makes up for it. The rest of the All-rounders are new in the scene and have to prove themselves to be in the final squad.
Bowling department
You are fooling yourself if you think Pakistan's pacers are easy to handle. But are they experienced enough to provide the magical spells they have so far on the batting-friendly pitches of India? Only time will tell.
In such a situation, Pakistan's home tours can be litmus tests for what works for them. Pacers like Shaheen need to the introduction, who have proved themselves as the backbone of the new-ball attack.
Mohammad Wasim and Hasan Ali are good too. While Hasan still has to find his top form again, he has the potential to become the leading wicket-taker.
But the ones who can prove to be dark horses are Haris Rauf and Mohammad Wasim. Those of you who watch PSL know how crafty Wasim is. If you face him in the death overs, you are in for a treat, a treat that will give you diabetes, that is.
At the same time, Haris Rauf is an all-rounder in bowling. He can be as good, no matter whether you introduce him with the new balls, the middle, or the deathovers.
Pakistan's World Cup statistics
We analyzed the players who may play in this year's world cup. But let's talk about Pakistan's cricket world cup stats.
They have won only one world cup, the 1992 world cup that gave them their ex-prime minister Imran Khan and many cricket superstars like Wasim Akram, Waqar Younis, Inzamam, etc.
Unfortunately, this team couldn't give them the 1999 world cup.
So far, Pakistan has done pretty well in the world Cup. Let's have a look at some interesting statistics.
Highest score
349 against Zimbabwe in the 2007 world cup
Lowest score
74 against England in the 1992 world cup
Largest victory
Won against Keyna with a margin of 205 runs in the 2011 world cup
Won against West Indies with 10 wickets at hand in the 2011 world cup
Most extras
59 runs vs Scotland in the 1999 world cup
Strengths and weaknesses this year
Now, let's discuss Pakistan's strengths and weaknesses. On a good day, we would say that Pakistan has always had strong bowling. But this time, things have changed. They must play as a team because bowling alone will not cut it.
Players like Babar, Rizwan, Fakhar, and Shaheen can create a strong impact for them. And did you notice that there is only one bowler in these names?
That speaks about their strength this time. They have Babar and Rizwan, who can carry the bat and win matches. Fakhar is here as a player who may or may not play innings that can trick the bowlers.
Pakistan's top order looks good, while its middle order has to perform. There isn't a lack of clean hitters, but can they reproduce their innings?
Also, the bowling department doesn't have impactful players other than Shaheen. It isn't wrong to say that bowling isn't Pakistan's strong aspect now.
Final words
Pakistan seems to be in murky water if they do not solve these problems. Batting looks good, and they can chase huge targets now. But what if the bowlers are not able to control runs? That is why they have to work hard in these departments. We will update the official squad on our website as soon as the official squad is announced. So keep reading.
Frequently Asked Questions
If you have any questions right now, you can refer to this section.
Will Pakistan play in World Cup 2023?
Yes, Pakistan will play in this world cup
Is there any change in the Pakistan squad?
As soon as there are any changes in the official squad, we will update you on this website. For now, there seem to be no changes.
Is Pak out of World Cup 2023?
Pakistan team is still in the top 8 rankings in the cricket world cup super league. So they are still in.
Is the Indian team better than Pakistan?
India is ranked among the top 3 teams, while Pakistan ranks lower. So right now, they are better than the Pakistani team.
Has Pakistan ever won a World Cup?
Pakistan won the 1992 world cup.