Hello PSL fans if you are looking for the best PSL 2021 opening pairs for all teams then this article will be very interesting && Informative, like this many and more psl 2021 updates you will get from this Platform.
Best PSL 2021 Opening Pairs For All Teams
This post has given you complete information about psl 2021 all team openers players that are very dangerous pair for each team has given a tough time to the against the team.👇👇
Related:- PSL 6 Teams T-Shirts [ Officials ] 
Multan Sultan Openers Players
Karachi Kings Openers Pairs
Lahore Qalandars PSL Openers Players
Islamabad United PSL Openers Pairs
Peshawar Zulmi Openers Pairs
Quetta Gladiators PSL Openers Players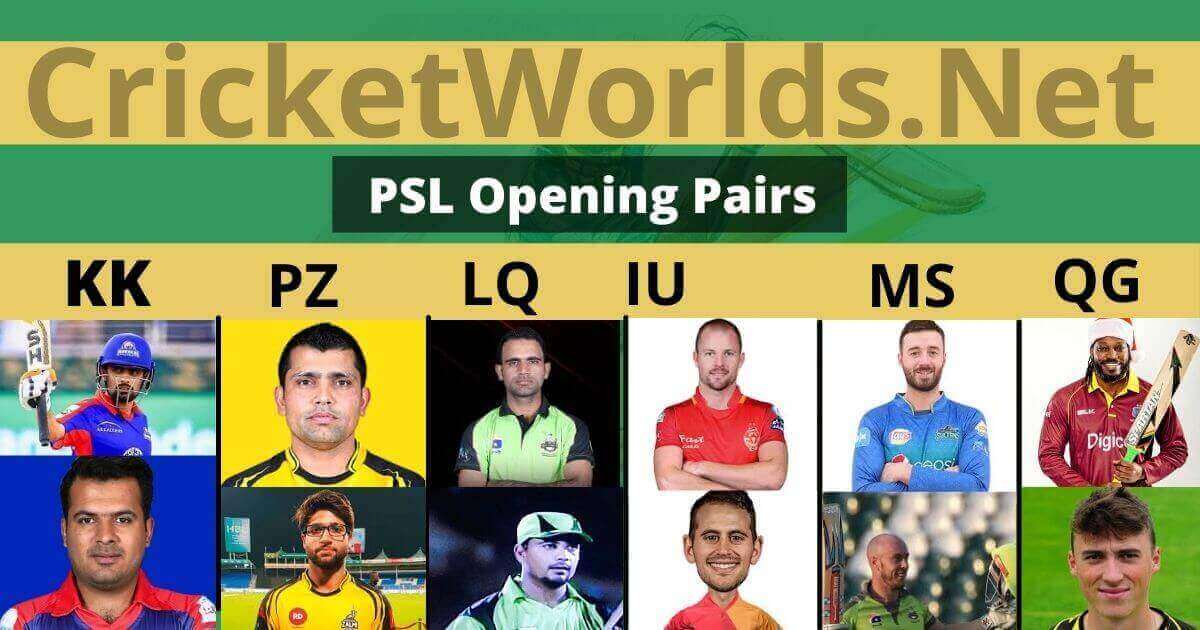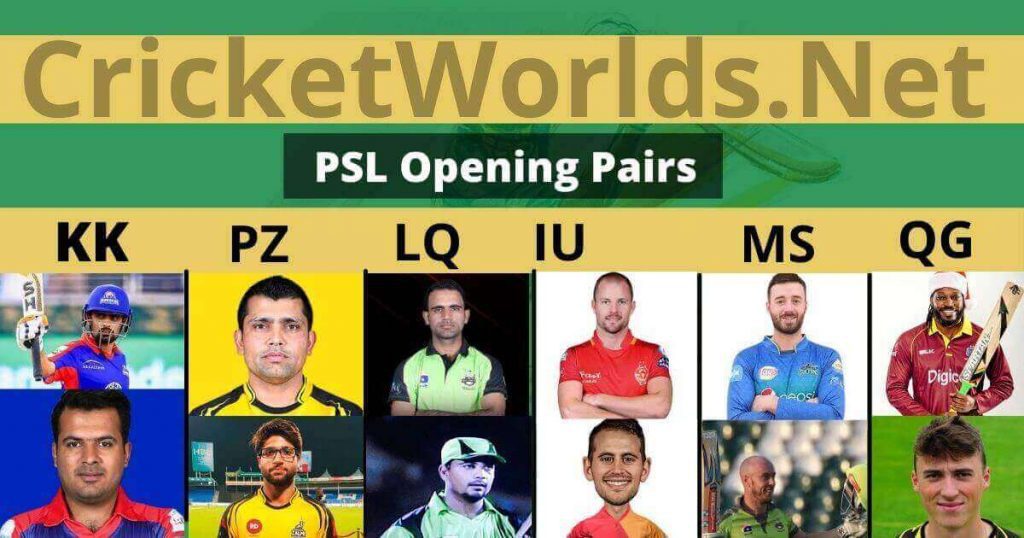 Multan Sultan Best Opening Pairs
As after the announcement of PSL 2021 Drafting, everyone wanna know for best opening players of the PSL each team, but now we discussed the Multan Sultan opening Paris 2021,
CHRIS LYNN ( Right Hand Batsman From Australia )
JAMES VINCE ( Right Handed Batsman From England )
Islamabad United Best Opening Players
Also, this Islamabad United PSL team is another dangerous team having dangerous openers, this time not any Pakistani player for opening, both are foreign players.
ALAX HALES ( Right Handed Batsman From England )
COLIN MUNRO ( Left Hand Batsman From New Zeland )
Related:- Top 7 Expensive PSL 2020 Players
Lahore Qalandars Best Opening Pairs
Like last time in PSL 2020, two best Pakistani players whose played as openers for Lahore Qalandars. Now this time PSL 2021, also those main & dangerous Players who playing as best PSL 2021 opener pairs.
FAKHAR ZAMAN ( Left Handed Batsman From Pakistan )
ZESHAN ASHRAF ( Left Hand Batsman & Wicket-keeper From Pak )
Quetta Gladiators Best Opening Players
Two main best opening psl players of Quetta Gladiators, one is the top expensive player of the PSL  & other end have strong players, so both considered as best PSL 2021 opening pairs.
CRYS GAYLE ( Left Handed Batsman From Westendies )
TOMB BANTON ( Right Handed Batsman From England )
Peshawar Zulmi Best Opening Pairs
Best PSL openers Players of Peshawar Zulmi, both batsmen from Pakistan having a strong position.
KAMRAN AKMAL ( Right Hand Batsman & Wicket Keeper From Pak )
IMAM UL HAQ ( Left Hand Batsman From Pakistan )
Karachi Kings Best Opening Players
In last PSL 5, same openers played, now this time also same openers play from KK, Form all PSL 2021 team openers, this team Karachi Kings openers players are very dangerous, mean this pair of the team is very strong.
Babar Azam is the top expensive PSL player of this session PSL 6. So, the KK team is the best psl 2021 openers pairs.
BABAR AZAM ( Right Hand Batsman From Pak )
SHARJEEL KHAN ( Left Hand Batsman From Pak )
So, from this post, all PSL fans & lovers knowing about the best PSL 2021 openers players, so we discussed here all teams.
Such as MS opening players, KK opening players, LQ opening pairs, IU opening players, QG opening pairs & PZ opening players are mention in detail.
Related:- Top 10 Biggest Sixes In PSL  
Like this many other interesting updates, news & posts are available on this site link https://cricketworlds.net/. So visit this platform & enjoy it. If you like this post, then don't forget to share it with your friends & colleagues who are cricket lovers, especially PSL fans.
ARTICLES FOR YOU: